Sharing my story of how to make your own stamps
I don't think it's any secret that I enjoy making my own stamps; after all, it has been nearly 15 years since I started making stamps for my very own Philosateleian Post. It's not often that I have an audience other than you and members of the Local Post Collectors Society, however, but that changed last week when I had the opportunity to share my love for local post and cinderella stamp production by delivering a presentation titled "How to Make Your Own Stamps" to the San Antonio Philatelic Association.
Sarah, my wife, tagged along, and got this picture of me explanining the cinderella stamp production process. (The back of my daughter's head is in the foreground.)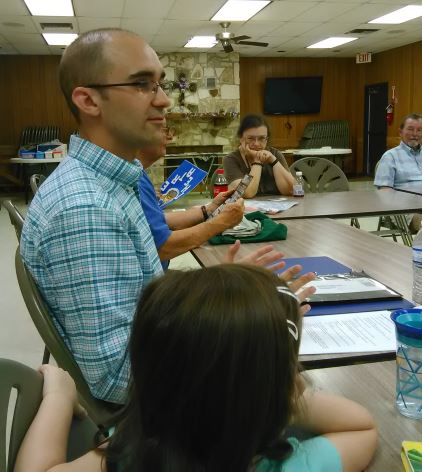 I realized going in that not everyone would be interested in trying to make their own stamps, so I kept my presentation brief, but still tried to provide enough of an outline to give anyone who was interested an idea of where to start. I focused on three main areas:
Stamp design
Stamp production
Stamp use
My audience was very attentive, and there were several questions at the end of my presentation that I was happy to answer. (I found out that one of the other club members collects cinderellas and was already familiar with several of the local posts that I mentioned!) I also provided sample packets of my own work and stamps produced by others as a freebie for those in attendance. Overall, I thought it went well, and I was happy to hopefully be able to contribute a little something.
Several years ago, I wrote up a blog post titled "How to make a local post stamp" in which I went into detail on how to use Paint.NET to create a stamp design. If you're interested in trying your hand at stamp creation, that's not a bad place to start.