14 Cents: the American Indian Stamp
Collectors have long hailed the $1 Western Cattle in Storm stamp of 1898 as the most beautiful the United States of America has ever produced.1 Its design is lauded as one of the finest examples of the engraver's art in philately.
That stamp's aesthetic appeal is virtually unquestioned. If any design equals or perhaps even surpasses it, however, it is the 14¢ American Indian.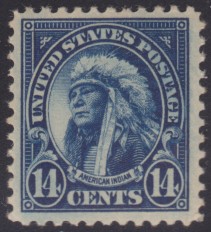 The American Indian vignette was initially used as part of the United States' fourth Bureau issue, but it has also been used on stamps of the Panama Canal Zone and the Marshall Islands. In addition, the design has appeared on various items that were never valid for postal use.
The design
Although the stamp is inscribed simply "American Indian," the subject is in fact Hollow Horn Bear (1850–1913), a Brule Sioux warrior. Hollow Horn Bear may seem an odd choice to be featured on a stamp; indeed, names like Pocahontas and Crazy Horse are likely much more familiar to modern readers. How, then, was this relatively unknown chief selected to represent an entire culture?
In 1905, Hollow Horn Bear visited Washington, D.C., to participate in events related to President Theodore Roosevelt's inauguration.2 During the chief's visit, De Lancey Gill, a photographer who worked for the Bureau of American Ethnology, took a picture of him in full regalia.3 4
When veteran Bureau of Engraving and Printing artist Clair Aubrey Huston was tasked with designing a new series of definitive stamps in the early 1920s, he used several existing photographs as inspiration. Huston selected Gill's photo of Hollow Horn Bear as the basis for the 14¢ design, a decision that launched the career of what students of the American Indian stamp would argue is one of the most dignified and enduring images of philately.
Next: the United States stamps
References
Published 2018-06-17