Penny Black anniversary cover a nice surprise
Sometimes you know what to expect in your mailbox. At other times, you get a nice surprise.
Today was one of the nice surprises!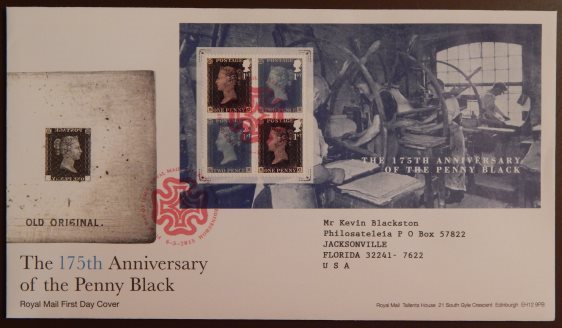 I certainly was expecting neither this first day cover bearing a copy of Britain's Penny Black anniversary souvenir sheet nor the informational card included with it, both of which arrived in an envelope from Royal Mail.
When I initially saw images of the stamps online, I disliked how the outline of Queen Elizabeth's profile is superimposed on the upper right corner of the anniversary stamps, but after seeing the stamps in person…well, they're not horrible. I'm not saying there was no way to take a more inventive approach to the subject, but really, the stamps could be worse. It is the Penny Black, after all.
Why was receiving the FDC a nice surprise? Because I didn't order it. That means either a) someone at Royal Mail decided to send it to me gratis, or b) one of my readers sent it to me. The latter seems more likely, but with no indication of who's responsible, all I can say to the unknown benefactor is, "Thank you."
Have you received any nice surprises in your mailbox recently?