Purgatory Post honors four science fiction legends
New Hampshire-based Purgatory Post recently issued a miniature sheet of four stamps commemorating the birth centennials of four different science fiction authors all born in 2020: Isaac Asimov, Ray Bradbury, Ray Harryhausen, and Frank Herbert.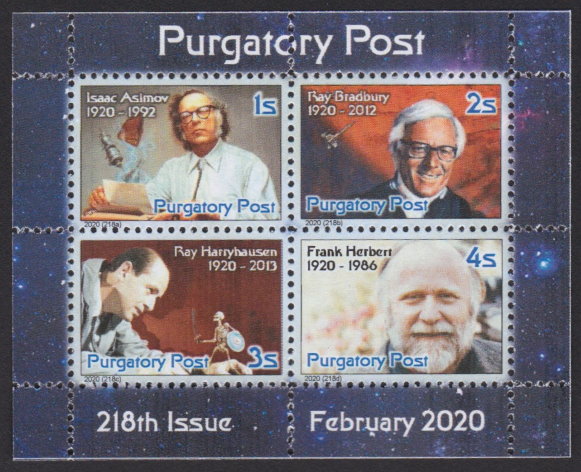 The 1-sola stamp in the sheet pictures Isaac Asimov (1920–1992), one of the "Big Three" science fiction authors (along with contemporaries Robert Heinlein and Arthur Clarke). Asimov is best known for his Robot, "Foundation," and "Galactic Empires" series.
Ray Bradbury (1920–2012) is pictured on the 2-sola stamp. Fahrenheit 451 was one of Bradbury's most famous works, but he also wrote more than two dozen other novels and hundreds of short stories.
On the 3-sola stamp, Ray Harryhausen (1920–2013) is pictured. Harryhausen was a visual effects specialist whose work appeared in movies such as Clash of the Titans and Jason and the Argonauts.
Finally, the 4-sola stamp from the sheet pictures Frank Herbert (1920–1986). Herbert is best known for the novel Dune and its sequels.