Faux bird stamps on business reply envelope look familiar
Last year, it seemed like I was receiving a business reply envelope with cinderella stamps or preprinted stamp-sized images on it from Boys Town just about every other week. Similar envelopes from a couple of other organizations turned up in the mail, too, but I haven't seen much in the way of that sort of material in recent months. Maybe that has something to do with the general impact of COVID-19, maybe not.
At any rate, a mailing from the American Lung Association that was waiting in my PO box on Monday did contain an envelope with five preprinted stamp-sized images picturing various birds. The containing envelope took a beating in transit, so the BRE has some dents, but it was nice treat to receive in junk mail.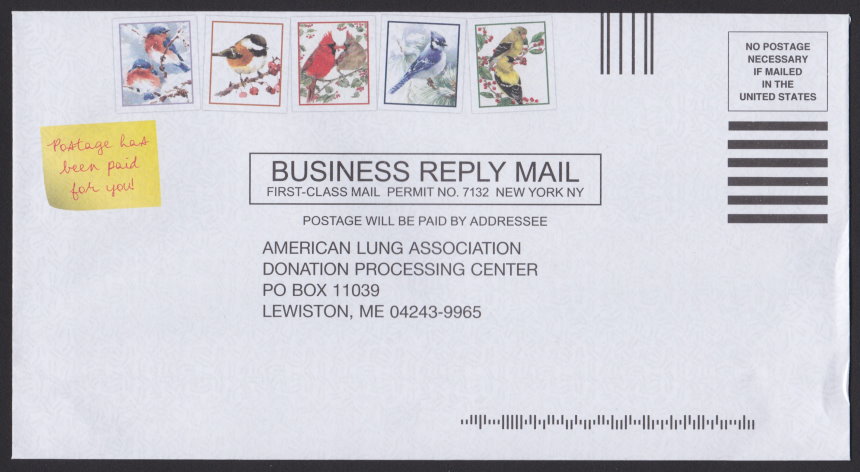 The bird images did seem vaguely familiar, so I did a bit of looking around and—surprise!—four of the five were used on the BRE enclosed in a November 2019 Boys Town mailing! It's almost like a not-quite-cinderella joint issue of sorts.
This has to be more than coincidence, and I can only assume that Boys Town and the American Lung Association are using the same marketing outfit. I'm curious to see if these same birds turn up in any other mailings in the future.
Published 2020-08-12