Philosateleian Post postmark format revised
Today, June 20, 2020, Philosateleian Post began using a new format for the postmark used on outgoing mail.
The old format included the date in two-digit year/month/day format with the word words "PHILOSATELEIAN" and "POST" above and below the date, respectively. In contrast, the new format wraps "PHILOSATELEIAN POST" around the top of the postmark with the word "LOCAL" in the middle, and the full date in four-digit year/month/day format at the bottom.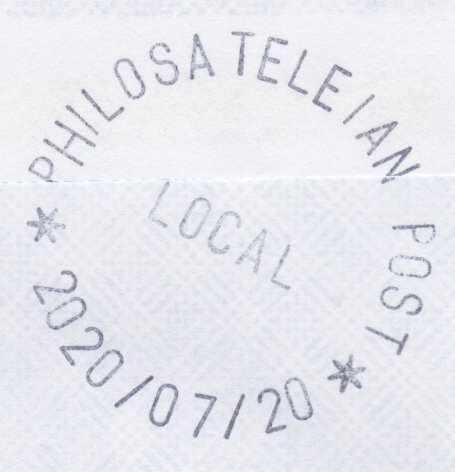 I have been wanting to go this route for several years, but was not able to find a date stamp manufacturer who could supply this particular format. The center portion of the round stamper in the do-it-yourself rubber stamp kit that I used to create my Philosateleian Post postmark is not quite wide enough for the full date as shown here, so I had been using a two-digit year, but that left some postmark dates ambiguous to recipients not familiar with my convention.
With the date moved from the center, I had some space available, and chose to insert "LOCAL" to clarify the nature of Philosateleian Post. Overall, I'm satisified with the result.