Philosateleian Post to issue whooping crane stamp in June
In just a few weeks, the endangered whooping crane will become the latest bird to be featured on a local post stamp. Philosateleian Post, a private local post based in San Antonio, Texas, plans to issue a 1-stamp design picturing a whooping crane's head on a dark red background on June 1, 2021.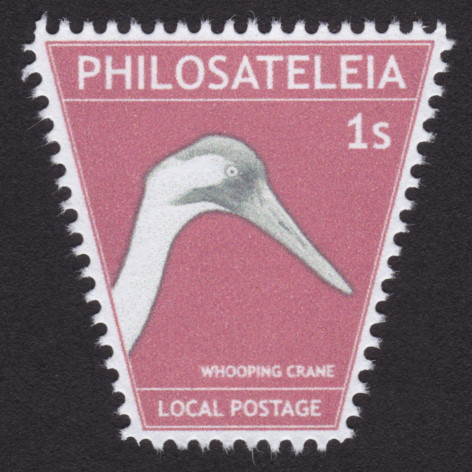 The new stamp is a non-rectangular trapezoid, the second such stamp Philosateleian Post has issued and the first since its American flamingo stamp released in June 2020. Unlike that stamp, the whooping crane stamp's design is widest at the top and narrowest at its base. The design is based on a photograph taken by Philosateleian Post's proprietor, Kevin Blackston.
By the early 1940s, no more than two dozen whooping cranes were known to still exist, but conservation efforts and breeding programs have led to a gradual increase in the species' population numbers, and hundreds of the birds are alive today. The whooping crane is North America's tallest bird with some specimens reaching heights of more than five feet.
Technical Specifications
Format: sheets of 44. Design size: 36×28 mm. Separation method: perforated 12. Adhesive: water-activated dry gum. Printing method: inkjet.
Philatelic Services
To receive a mint single of Philosateleian Post's Whooping Crane stamp, or for first day cover service, send either $2 or a self-addressed stamped envelope and your request to:
Kevin Blackston
Philosateleian Post
PO Box 17544
San Antonio TX 78217-0544
United States of America