New Philosateleian Post local post stamp pictures butterfly
On Monday, January 30, Philosateleian Post will celebrate World Local Post Day by issuing a new local post stamp, a 1-stamp design picturing the Gulf fritillary.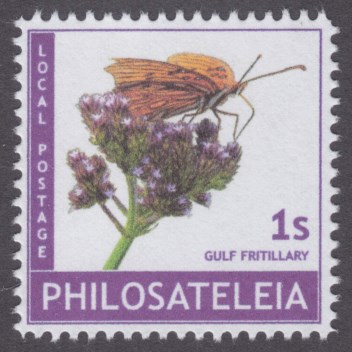 The Gulf fritillary is a common butterfly found from the southeastern United States to California, and southward throughout parts of Central and South America and the Caribbean. Its larvae, or caterpillars, feed exclusively on passionflower vines.
The vignette is based on a photograph taken by Philosateleian Post's proprietor, Kevin Blackston, in Florida in 2015.
"Philosateleian Post is entering its 13th consecutive year of producing local post stamps, but this is the first to depict a butterfly," says Blackston. "In addition, it's the first since 2015 to picture an animal as its primary subject. I hope it will delight collectors and non-collectors alike."
Technical Specifications
Format: sheets of 48 (6×8). Design size: 28×28 mm. Separation method: perforated 12. Adhesive: water-activated dry gum. Printing method: inkjet.
Philatelic Services
To receive a mint single of Philosateleian Post's Gulf fritillary stamp, or for first day cover service, send either $2 or a self-addressed stamped envelope and your request to:
Kevin Blackston
Philosateleian Post
PO Box 17544
San Antonio TX 78217-0544
United States of America
About Philosateleian Post
Founded in 2004, Philosateleian Post transports mail only from the proprietor's home to the nearest mail receptacle or post office, and does not compete with any official mail service. For more information, please visit http://www.philosateleia.com/post/