Aerican Empire micronation issues first stamps
Although most private local posts have their own stamps, Philosateleian Post being among them, it seems a little less common to run across a micronation with its own "postage." Even less common still is a micronation that has existed for nearly 30 years, but is only now getting around to issuing its first stamps.
Such a description, however, fits the Aerican Empire. The brainchild of Eric L., the project claims territory on Earth, Mars, and even an imaginary planet or two. Considering that its lands on Earth are generally recognized as belonging to existing countries, and its lands on other planets are generally inaccessible—or, in the case of imaginary planets, non-existent—we can only conclude that the participants don't take themselves too seriously.
But back to stamps. The Aerican Empire in April issued its first stamps, which picture the Aerican flag. Victor M., who was involved in the production of the stamps, was kind enough to send a cover bearing one of the new stamps.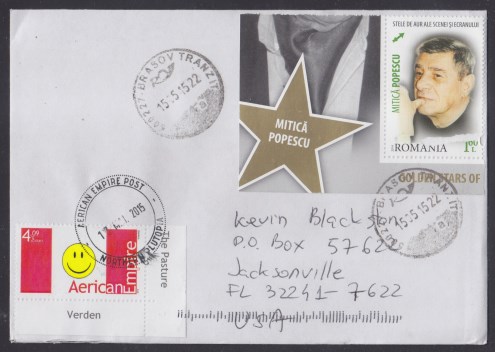 Here's a closeup of the stamp itself.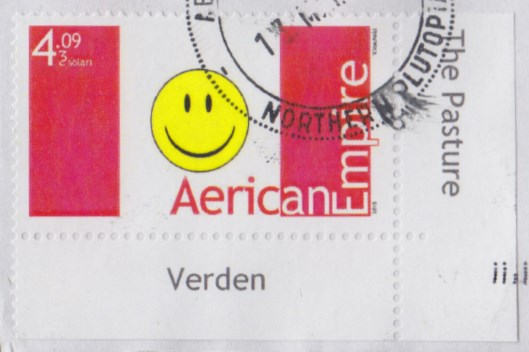 This cover is a delightful example of the intersection of local posts and micronations. You can have either without the other, but having both in one place is quite nice indeed!
In his mailing, Victor also included an Aerican postcard and a couple of CTO copies of the new stamp. I don't want to hog all the goodies for myself, so…if you're the first reader to comment here and say you would like an Aerican Empire stamp, I'll send one of the CTO copies to you at no charge. (And after commenting, please be sure to send your address to me so I know where to send the stamp.)