United States landscape stamps abound in 2016
If you, like me, are a fan of stamps picturing landscapes, then 2016 is shaping up to be a year to remember.
The United States kicked off the year with new Priority Mail and Priority Mail Express stamps issued in January. The $6.45 Priority Mail stamp pictures La Cueva del Indio in Puerto Rico; I recently snagged one from an envelope mailed to my workplace.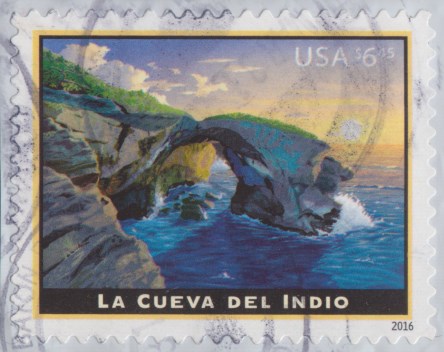 The $22.95 Columbia River Gorge Priority Express Mail stamp has a higher face value than any other regular postage stamp the United States has ever issued, and it's not one you're likely to see used much. The high value also makes it prohibitively expensive for me to purchase a mint single for my collection right now, much as I would like to do so.
More landscapes are coming our way with a pair of noteworthy new issues in June. First, a set of 16 stamps celebrating the National Park Service's centennial includes several landscape designs will go on sale during the World Stamp Show in New York City. Just a few days later, an Indiana statehood bicentennial stamp picturing the sun setting over a peaceful corn field will be released.
Finally, if you need even more landscapes to satisfy your hunger, you can expand your collection to include Purgatory Post's Acadia National Park local post stamp released earlier this year and Philosateleian Post's Great Smoky Mountains National Park commemorative scheduled to be issued next week!