New ball stamps have textured surfaces
When the USPS first unveiled the designs of the recently-released ball stamps, my initial reaction was one of indifference. Sure, the stamps are round, but they're hardly the first round stamps the United States has released; for example, all of the so-called Global Forever stamps have been round.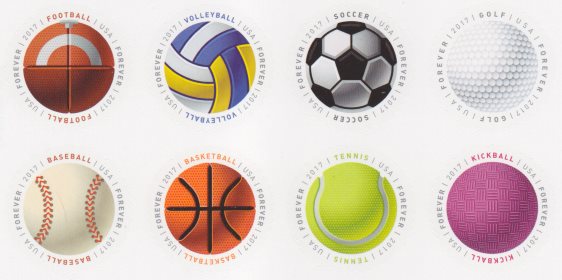 What I didn't realize at the time, however, was that the eight stamps—one each for football, volleyball, soccer, golf, baseball, basketball, tennis, and kickball—are textured. Run your finger across the surface of one of the stamps, and you can actually feel that ball!
In my opinion, the golf ball and kickball textures are the best, while the treatment is probably least effective for the football and the tennis ball. The tennis ball in particular would have benefitted from being a bit fuzzy, but perhaps postal officials didn't want green fibers gumming up their processing equipment.
Is this an "unnecessary" stamp issue? Certainly. Is it gimmicky? Without a doubt. Nevertheless, I like these stamps, and will keep a set for my collection. That's something I don't say about many modern stamps, but these are neat enough for me to want to save them.