Another 14¢ American Indian stamp with plate flaws
I've previously mentioned finding a couple of 14¢ American Indian stamps with some nice plate flaws, and I recently ran across another one.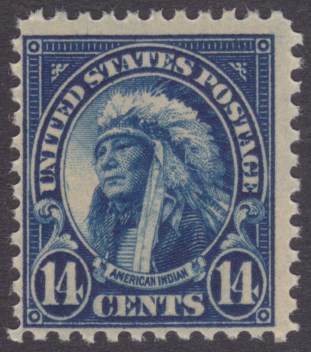 As you can see, this stamp has a couple of things going on in the left quarter of the vignette. There's a diagonal scratch running nearly from the chief's eye up toward the "TE" of "UNITED," plus a smaller but very distinct apparent scratch or gouge just inside the vignette frame to the right of the "U" of "UNITED."
This sort of item is unlikely to ever hold a great deal of value above what a normal example is worth, but it does give me a way to add some interesting material to my collection at minimal cost.