Principality of Thanatos registered cover is a visual treat
Earlier this week, I received in my capacity as editor of The Poster, the Local Post Collectors Society's journal, a note from Damian Robinson, Postmaster General for the Principality of Thanatos. The Principality, which is part of the micronation scene, is said to exist on a small island off the Scottish coast.
Naturally, this micronation has its own stamps. Mr. Robinson's letter was inside this envelope, which was itself enclosed and mailed in an envelope bearing appropriate British postage.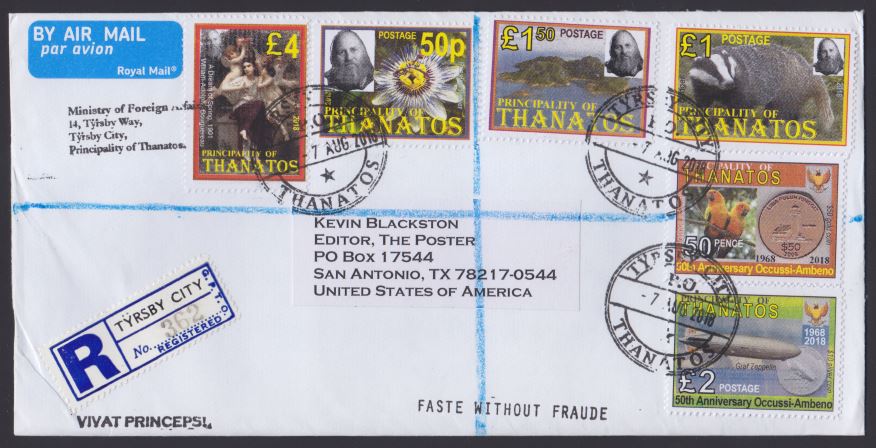 Starting clockwise from upper left, the stamps, all of which were issued this year, depict:
£4 A Dream of Spring by William-Adolphe Bouguereau
50p Passionflower
£1 Island of Thanatos
£1 Badger
50p Sun parrots & Occussi-Ambeno gold coin
£2 Graf Zeppelin & Occussi-Ambeno silver coin
I thought the cover was very well done with its registration label and markings on the front. Then I flipped it over and discovered an additional form on the reverse: a receipt for registered mail that I (as postmaster for Philosateleian Post) am apparently intended to complete and return to the sending postal authority. What a hoot!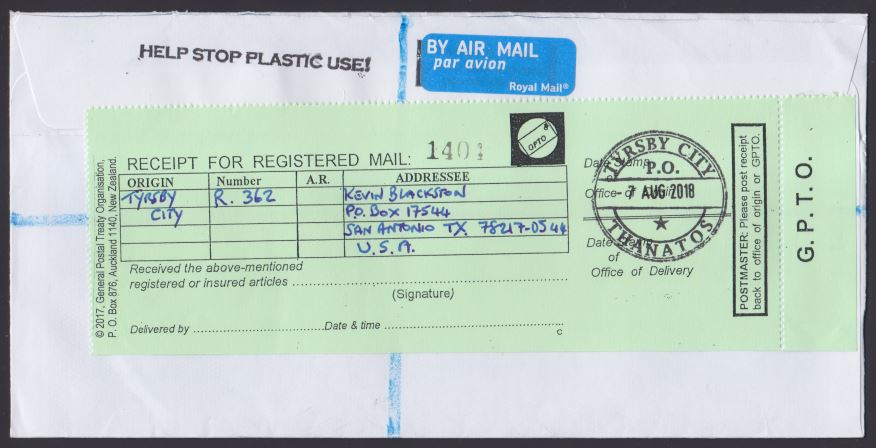 This sort of material is definitely on the fringes of "traditional" philately, but there's no doubt that it makes for an interesting side collection, and I'm impressed with the sender's creativity. I'll be writing up these stamps for the next issue of The Poster.