Texas artist's work to be featured on new Philosateleian Post stamp
A Texas artist's work will be featured on the newest stamp from San Antonio-based Philosateleian Post. The Contemporary Art issue picturing Hadassah's Lettuce is scheduled to be issued on June 1.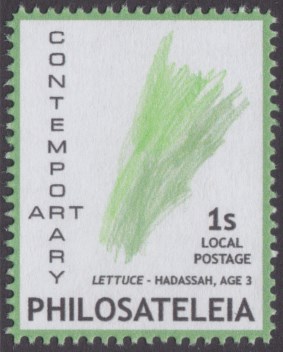 Lettuce is a colored wax on paper composition created by Hadassah at age 3. The young artist has also worked with ink on paper, and wax on a variety of plastics.
"Hadassah used two different shades of green when coloring Lettuce," says Kevin Blackston, the artist's father and proprietor of Philosateleian Post. "It is among the most original of her creations to this date, and it is a picture that I will keep always and am honored to be able to feature on Philosateleian Post's new Contemporary Art stamp."
Contemporary art is defined as "art made and produced by artists living today" (J. Paul Getty Museum), or as art "produced in the late 20th century or in the 21st century" (Wikipedia).
Technical Specifications
Format: sheets of 36 (6×6). Design size: 28×36 mm. Separation method: perforated 12. Adhesive: water-activated dry gum. Printing method: inkjet.
Philatelic Services
To receive a mint single of Philosateleian Post's Contemporary Art stamp, or for first day cover service, send either $2 or a self-addressed stamped envelope and your request to:
Kevin Blackston
Philosateleian Post
PO Box 17544
San Antonio TX 78217-0544
United States of America
About Philosateleian Post
Founded in 2004, Philosateleian Post transports mail only from the proprietor's home to the nearest mail receptacle or post office, and does not compete with any official mail service. For more information, please visit http://www.philosateleia.com/post/