Diagonal plate scratches on 14¢ American Indian stamp
eBay sometimes gets a bad rap in the philatelic community, and that's probably not without reason. You definitely have to be careful, and there are some things (never-hinged classics with no certificate, for example) that I simply wouldn't take a chance on. Buyer beware!
In spite of this, some pretty cool items can turn up. Take for instance this 14¢ American Indian stamp. I purchased it not because I thought it was the most beautiful example that I'd ever seen—the bottom perforations are atrocious—but because it shows a plate flaw, a pair of nearly parallel diagonal scratches running from the chief's shoulder up toward the "N" in "UNITED", with one of the scratches then reappearing in the left margin to the left of the "IT" in "UNITED."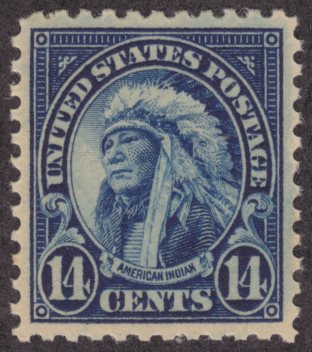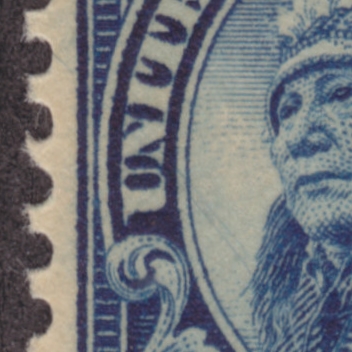 This sort of flaw is not especially valuable, and the scratches are less distinct than on a stamp I wrote about in November, but it was still an inexpensive and very cool acquisition.