Local post stamps feature reindeer, military service medal
I've received a couple of local post stamps for my collection over the past few weeks.
Alan B. of Adanaland fame recently shared an interesting 12p Salisbury & South Wiltshire Scouts local post stamp picturing a reindeer. As does the USPS in the United States, Royal Mail essentially has a monopoly on mail delivery in the United Kingdom, "but the rules are relaxed at Christmas for charity services run locally by groups like the Scouts," writes Alan. Such groups deliver Christmas cards locally, and "some of them issue adhesive stamps and make a bit of extra revenue from collectors."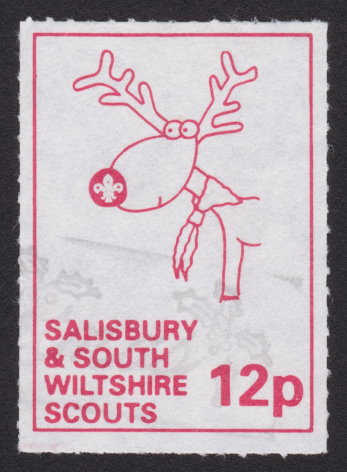 I have to admit never having run across any of these, or even knowing of their existence prior to receiving Alan's note, but this sort of operation sounds like a genuine local post service to me, and arguably with more reason for existence than my very own Philosateleian Post!
The other local post stamp I've received is Purgatory Post's World Local Post Day issue, a 2-sola stamp picturing the World War II Victory Medal and bearing the caption "Remembering Our World War II Veterans." The stamp is printed on a gold-colored paper.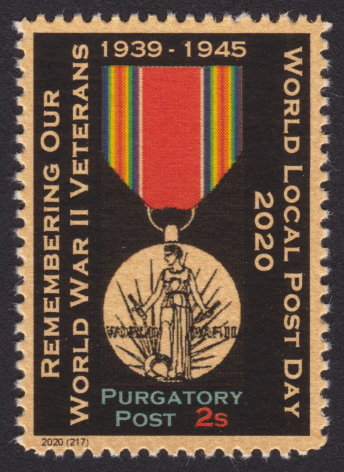 The World War II Victory Medal was awarded to individuals who served in the armed forces of the United States between December 7, 1941—the date of the attack on Pearl Harbor—and the end of 1946, when President Harry Truman officially declared an end to the hostilities.
Purgatory Post issued this stamp on January 6, a few weeks ahead of World Local Post Day (which takes place on January 27 this year) but in time to go on operator Scott Abbot's local stamp club's January newsletter. Interesting stuff all the way around!