Blank APC label an obvious error
Several years ago, I wrote about error labels being produced by the United States Postal Service's Automated Postal Centers, or APCs, now known as Self-Service Kiosks. The machines found in post office lobbies are intended to print designs and barcodes on blank labels, or just barcodes and related information on labels with preprinted images, but some labels showed up with kiosk-printed designs printed on top of preprinted images. These oddities came about when preprinted paper was used, but the machines were not reconfigured to not print images themselves.
At the time, I theorized that "it could be possible to have labels with no design on them—just the barcode and words—if the APC units were not recalibrated when plain paper was put back into use." It wasn't until within the past few weeks, however, that I finally saw an example of that.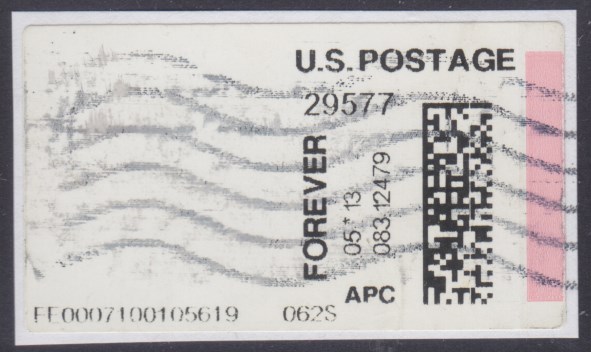 The information on the label indicates it was printed at a post office in ZIP code 29577 (Myrtle Beach, South Carolina) in May 2013. That was within a few months of my initial blog post on the subject, but the label apparently sat unused until this year.
Do you have any examples of "blank" APC labels in your own collection? I'd be interested in knowing how common these are.