The unissued blood plasma stamp of 1945
I've been collecting United States postage stamps for the past 25 years or so, and I've spent countless hours flipping through the Scott Specialized Catalogue. I think I have a pretty good handle on what stamps the U.S. has issued, but a cover in the 50¢ box at the local stamp store last week left me scratching my head.
With a strip of three 1¢ George Washington coil stamps from the 1938–39 Presidents issue and a 1945 postmark, the cover is fairly nondescript except for a cachet created by C. Stephen Anderson, an early FDC producer. The cachet pictures a medic crouching next to a wounded solider, and its text reads in part:
"The blood plasma stamp was issued to bring to public attention the continuing need for blood plasma for the armed forces and to honor those who have given of their blood that others might live…"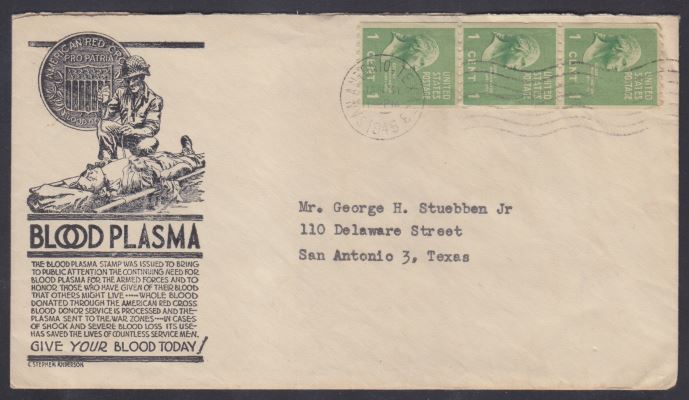 Blood plasma stamp? I didn't remember a blood plasma stamp, certainly not one issued during World War II. Intrigued, I figured the cover was worth half a buck, and brought it home to do some additional research.
A Google search revealed that there was indeed a plan for a blood plasma stamp in 1945, but that the stamp was never actually issued. According to the National Postal Museum, an essay picturing a medic with a wounded solider was produced, but when President Franklin D. Roosevelt saw the design, he thought it was "too horrific" and rejected it outright. World War II ended later in 1945, of course, and apparently the idea was dropped altogether as the stamp was never issued.
So, there you have it. A chance find in the junk box at the local stamp store led me to discover a proposed stamp issue that I never knew had even been considered.