Fibreboard Products Cover
In the late 1930s, the United States was still struggling through the Great Depression, and although unemployment remained high, some business was still being conducted as is illustrated by this cover mailed from Fibreboard Products Inc. of Los Angeles, California, to Goodyear Tire & Rubber Company of Akron, Ohio.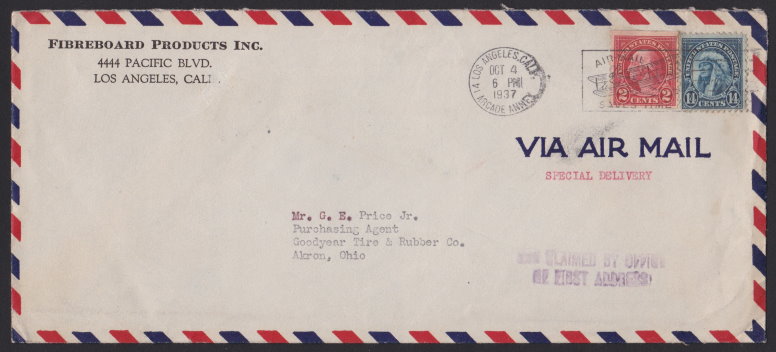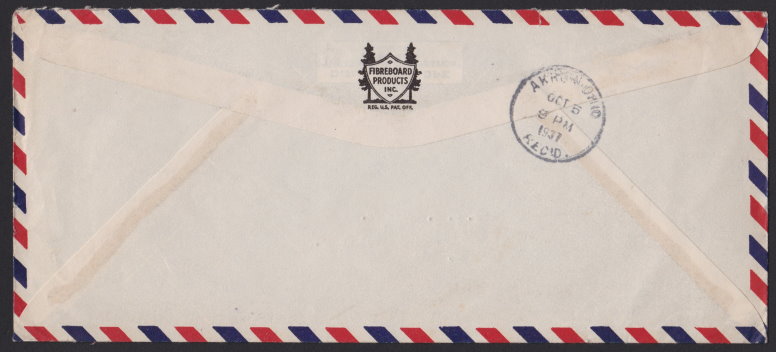 Postmarked in Los Angeles on October 4, 1937, the envelope was sent air mail special delivery, and it received an Akron backstamp upon its arrival in Ohio the next day. The 16¢ postage paid by a 14¢ American Indian stamp and a 2¢ George Washington coil stamp covered the 6¢ domestic air mail rate plus 10¢ for special delivery.1
Goodyear, of course, is still in business manufacturing tires, but Fibreboard Products may be a less familiar name. The company was founded in Los Angeles in 1912, producing 15 tons of fiberboard each day; by the mid-1930s, approximately 350 employees at the company's 12-acre facility produced 100 tons of product each day, manufacturing everything from shipping containers and egg cartons to board for movie sets.2
Next: St. Paul Casket Company cover
References
Beecher, Henry W., and Anthony S. Wawrukiewicz. U.S. Domestic Postal Rates, 1872–2011. 3rd ed. Bellefonte, Pennsylvania: American Philatelic Society, 2011.
McGroarty, John Steven. Bruce F. Brown. RootsWeb. Accessed 6 Aug. 2020.
Published 2020-08-06