Celebrating 150 years of Yosemite
Stamp collectors may be more familiar than any other group with the word "sesquicentennial." Meaning 150th anniversary, sesquicentennial is commonly associated with stamps issued during the 1950s.
This June, Philosateleian Post will issue a local post stamp commemorating the sesquicentennial of the passage of the Yosemite Grant Act, a piece of legislation that set aside Yosemite Valley and Mariposa Grove as protected areas. As you probably know, both pieces of land were later incorporated into Yosemite National Park.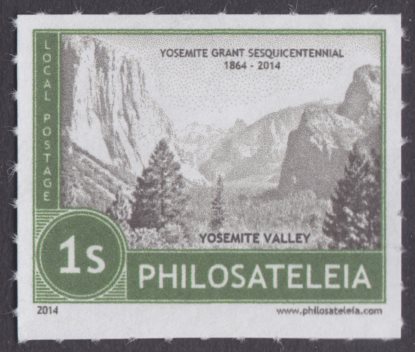 Last September, my wife and I had the opportunity to visit Yosemite during a trip to California. The entire area's scenic beauty is incredible; if you've never been there, I can only advise that you go if you have the opportunity.
I based the vignette of Philosateleian Post's new stamp on a photograph I took during our time at Yosemite, and went with a simple frame that I hope is suitably classy without detracting from the view itself.
If you would like a copy of my new stamp for your collection, see the press release for details. (Note that your request should include either $2 or a self-addressed stamped envelope, but not both.)