Purgatory Post commemorates Chocorua
New Hampshire's Purgatory Post earlier this month continued its series of stamps commemorating the steamships of Lake Winnipesaukee with the release of a new stamp picturing the Chocorua. The 3-sola design in green and black was issued September 13, 2022.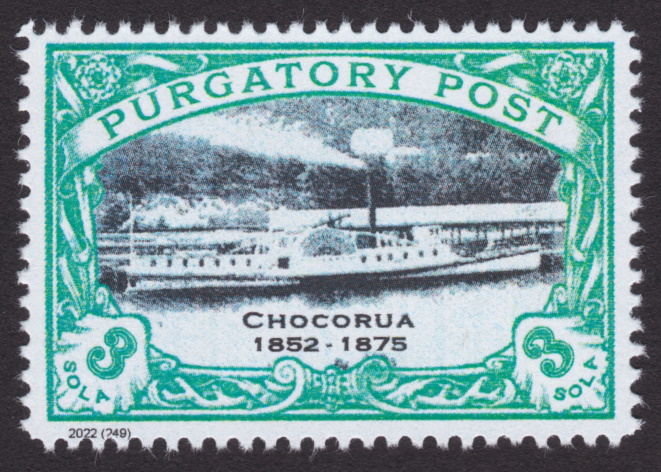 The ship, originally christened the Dover, made its first voyage on August 18, 1852, but within a few years the vessel was being outpaced by the Lady of the Lake.1 Dover's owners rebuilt their steamship, lengthening it and renaming it Chocorua, a name shared by a local mountain and originally a native chief.2
Chocorua continued operating until it was replaced by the faster Mount Washington in 1872, and three years later, Chocorua was dismantled.3
References
Steamship Chocorua. Weirs Beach. Accessed 22 Aug. 2022.
Ruell, David. Lady of the Lake - a Real Beauty on the Water. Foster's Daily Democrat. 1 July 2007. Accessed 22 Aug. 2022.
Steamboats. Lake Winnipesaukee Museum. Accessed 22 Aug. 2022.