Scenic American Landscapes cover features all stamps from series
In my entry titled "Yosemite National Park postal card," I mentioned that Sarah and I made a trip to California in September, and that during our time there we were able to visit Yosemite National Park. In addition to having the Yosemite National Park postal card from the Scenic American Landscapes series postmarked there, I prepared and serviced a few covers bearing all 18 of the stamps from that same series. One of those covers is pictured here.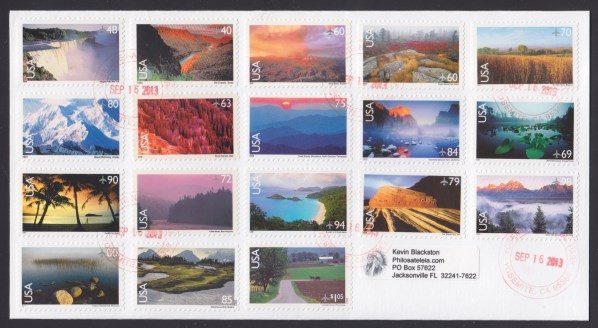 The Scenic American Landscapes series really appealed to me, and I'm sorry that it came to an end last year. There were some truly beautiful designs, however, and although this is a totally philatelic creation, I'm happy to have the full set on a single cover.
You may have noticed the usual barcodes and sprayed-on cancellations found on modern U.S. mail are missing from my cover. Due to the high face value of the stamps I used, there was more than enough postage to pay for Priority Mail service, so I inserted each of the covers I serviced into one of the small Priority Mail window envelopes that the USPS provides for mailing #10 envelopes. This provided imperfect protection; the cover pictured here made it through to me virtually unscathed, but a couple of others were dinged up in the mail.