Purgatory Post commemorates Cilleyville Bridge
New Hampshire-based Purgatory Post on April 6 issued the newest stamp in its series of stamps depicting covered bridges. The 16-sola design pictures Cilleyville Bridge in Andover, New Hampshire.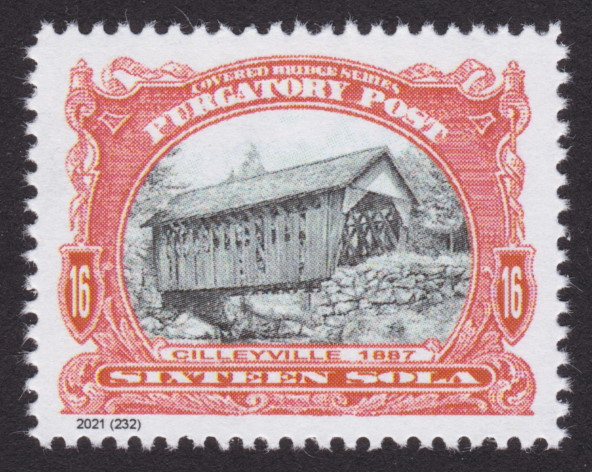 The 53′ long structure was built in 1887 and spans Pleasant Brook. The bridge is known for having a slight tilt; according to Purgatory Post operator Scott A., local legend is that two of the carpenters who helped build the bridge intentionally cut some timbers short after getting upset with the man in charge of the project. A less amusing explanation is that the tilt is a result of the bridge's underlying design.
According to a New Hampshire state website, Cilleyville Bridge was originally known as Bog Bridge, while another nearby span over the Blackwater River was named Cilleyville Bridge; however, after that structure was dismantled in 1908, the bridge that still stands today inherited the original bridge's name.
The state of New Hampshire has several dozen covered bridges, so we can expect this set of Purgatory Post stamps to continue for some time to come.