Bat's Private Post commemorates Rudolph Valentino Memorial
On August 23, 2022, Bat's Private Post in Beverly Hills, California, issued a set of five stamps commemorating the 95th Rudolph Valentino Memorial Service. The first annual service held in remembrance of Valentino (1895–1926) was conducted in 1927, exactly one year after the Hollywood legend's death.

A 5¢ stamp covering Bat's Private Post local postage to the USPS pictures roses traditionally left at Valentino's grave, while 49¢, 65¢, and $1 stamps all picture the actor himself. The 65¢ stamp comes in two varieties: one in purple, and one in black labeled "OFFICIAL" and valid only for use for Bat's Private Post official business.
The 49¢ stamp covers Bat's Private Post and USPS postage for a domestic postcard; the 65¢ stamps, for a domestic letter; and the $1.45 stamp, for an international letter or postcard.
In addition to the stamps, Bat's Private Post issed a 49¢ postal card with an imprinted design picturing Valentino. According to a press release, copies of the postal card are being sold at $2 each, the price of which includes applicable United States postage.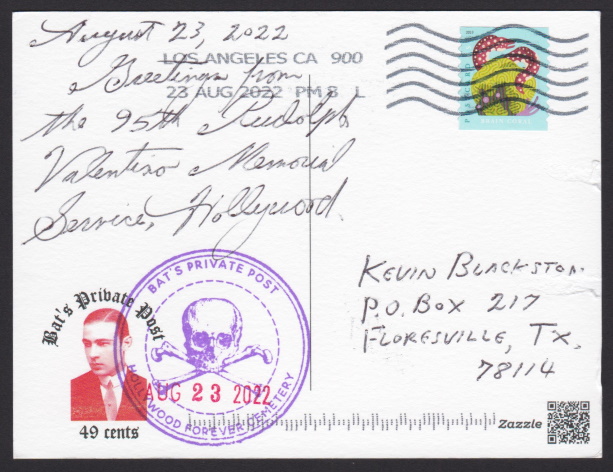 Bat's Private Post in August 2020 issued a set of six stamps commemorating the 125th anniversary of Rudolph Valentino's birth, and in March 2021 issued another set of six stamps commemorating the centennial of The Four Horsemen of the Apocalypse, the movie that propelled Valentino to stardom.