St. Paul Casket Company Cover
As noted elsewhere, the primary reason for the issuance of the 14¢ American Indian was supposedly to provide a stamp that would pay specific parcel post rates. A majority of solo usages of the stamp are unquestionably philatelic; a few are indisputably commercial.
This special delivery cover mailed to the St. Paul Casket Company of Saint Paul, Minnesota, appears to fall somewhere in between. It is difficult to imagine that an envelope with the preprinted address of a casket manufacturer could be used for anything other than commercial purposes, but a couple of pieces of evidence support the idea that there may have been at least some philatelic intent behind the stamp's use.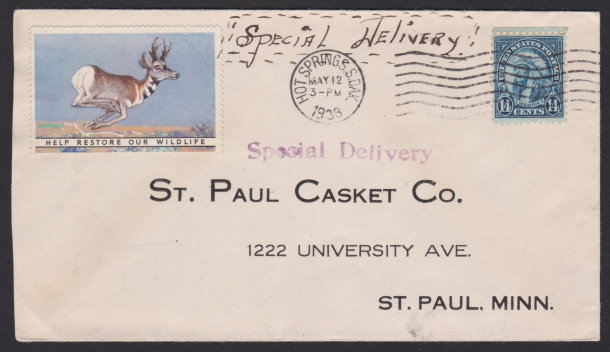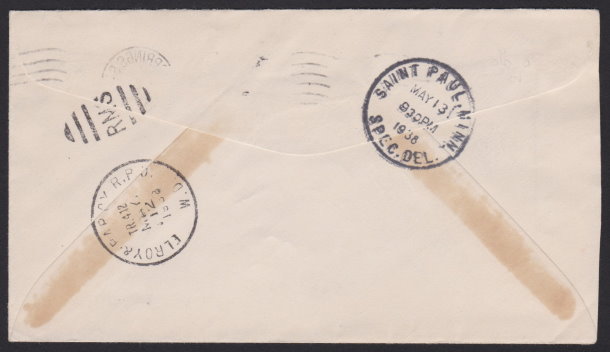 First, the 14¢ postage overpaid the special delivery rate by 1¢.1 That fact alone hardly disqualifies this as a commercial usage since the higher value stamp could have been used through carelesness or indifference; however, the presence of the large cinderella stamp in the upper left corner of the cover suggests that the unidentified sender may have had more than a passing interest in stamps. It is, of course, still entirely possible that the cover was mailed during the normal course of business, but without knowing exactly what it contained, it is impossible to make a definitive statement.
Postmarked in Hot Springs, South Dakota, on May 12, 1938, the cover received backstamps on board what appears to be the Elroy & Papoy RPO on May 12 and in Saint Paul on May 13. The front of the cover bears the words "Special Delivery" in both pen and a magenta handstamp, and the piece does indeed appear to have received special delivery service.
The St. Paul Casket Company building on University Avenue in Saint Paul was constructed in 1922 with Gothic and Art Deco design elements and remains standing to this day. It served as the company's factory and showroom into at least the early 1950s.2 Prior to its relocation to that building, the company was a major employer in North Saint Paul with a staff of approximately 100 people in the late 19th century.3
The poster stamp, which pictures a pronghorn antelope and bears the caption "Help Restore Our Wildlife," was one of 16 different designs produced in 1938 by the National Wildlife Federation, then known as the General Wildlife Federation.4 The organization sold the labels in sheets of 100 at $1 per sheet in support of National Wildlife Restoration Week.5
Next: First day cover
References
Published 2020-08-01 Last updated 2020-08-10