Bat's Private Post issues Rudolph Valentino local post stamps
Bat's Private Post, a modern local post operating in Beverly Hills, California, late last month commemorated this year's 125th anniversary of the birth of Rudolph Valentino (1895–1926) with a set of six different stamps picturing the late actor. The stamps were issued on August 22.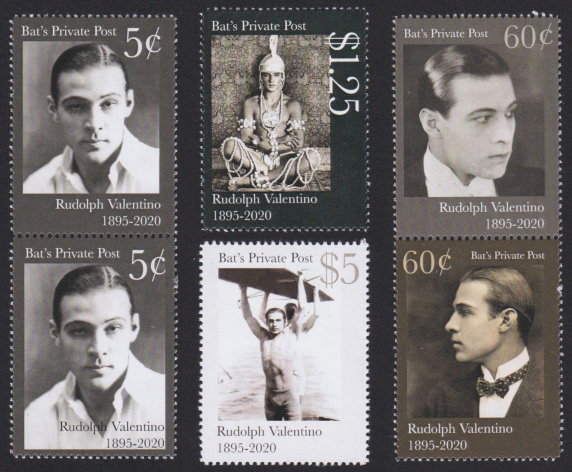 Valentino, who is regarded as an early Hollywood sex symbol, made credited appearances in no fewer than 30 silent films beginning in 1917, but several of those are now considered to be lost films, productions of which no extant copies are known.
The 5¢ and 60¢ denominations exist with two different designs for each value, and are intended for use on domestic letters. According to a press release from Bat's Private Post, the $1.25 and $5 stamps feature stills from The Young Rajah, a mostly lost film originally released in 1922; the $1.25 stamp is intended for international letters, while the $5 stamp covers postage for local delivery to destinations near those normally served by the operation.