Postcard bears multiple Imperial Coldland Embassy cinderellas
It's a treat to receive unexpected mail, especially when it's something as highly decorated as this postcard that I received in the mail last week. The postcard with a 3¢ imprint depicting a bear purports to be from the Embassy of Imperial Coldland in Dearborn, Michigan, and was postmarked in Dearborn on January 22.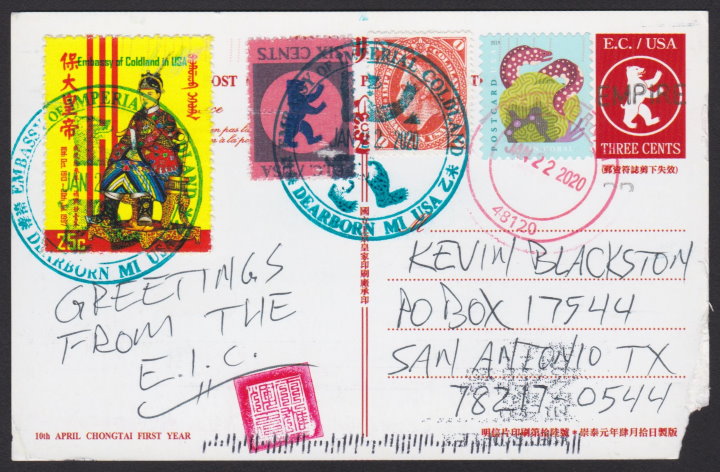 Along with the preprinted "postage," the postcard has a United States postcard stamp that actually paid postage through the U.S. mail, plus three Imperial Coldland stamps: a 6¢ stamp reusing the bear motif with the bear apprarently printed inverted compared to the rest of the design, a 25¢ stamp picturing a figure in Asian garb, and an Imperial Coldland Embassy in USA stamp with a "1" in each corner. The design of that last stamp appears to depict a woman's head, but the design is partially obscured by one the EIC postmarks.
My best guess is that these stamps may fall more into the micronation scene than anything else, but the way they were used would seem to qualify them as local post stamps. Sadly, I can't tell you who created these stamps because they didn't include a name or a return address, but if the sender reads this, I hope they'll accept my thanks.