Philosateleian Post announces 2011 stamp program
Philosateleian Post is pleased to announce its 2011 stamp program. Three new designs are planned for the coming year.
Airmail Centennial
For the first time, Philosateleian Post will participate in World Local Post Day, which takes place each year on the last Monday of January. A stamp honoring the 100th anniversary of airmail will be issued on January 31.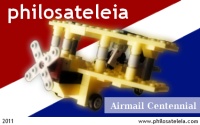 Featuring a red, white, and blue background reminiscent of the airmail labels of yore, the stamp depicts a biplane built of LEGO bricks. Philosateleian Post's proprietor and his wife designed and built the model.
Guadalupe River
As part of its ongoing commitment to commemorating scenic landscapes around the world, Philosateleian Post will on June 1 issue a stamp picturing sunset over the Guadalupe River in Texas.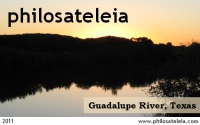 The river, which runs some 230 miles from its source in Kerr County to the Gulf of Mexico, is popular for fishing, tubing, and canoeing.
Sarah & Kevin's Wedding
Philosateleian Post's final stamp of 2011 will be issued to commemorate the first anniversary of the proprietor and his wife. The stamp will be issued on September 19.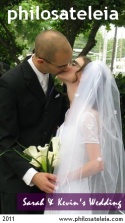 This stamp will be Philosateleian Post's first to picture an identifiable person.
Philatelic Services
Collectors who wish to obtain first day cover service for any of Philosateleian Post's 2011 stamps should mail their request and a self-addressed stamped envelope or postcard to the proprietor before the requested stamp's date of issue. Individuals may also request mint singles for their collections.
There is no charge for service on up to three first day covers per issue or for a single mint copy of any new issue. Individuals requiring multiples or larger quantities of first day covers or singles should contact Philosateleian Post for details.
First day cover service and mint single requests may be mailed to:
Kevin Blackston
Philosateleian Post
PO Box 57622
Jacksonville FL 32241-7622
United States of America