Philosateleian Post to issue 10th wedding anniversary stamp
On September 18, 2020, Philosateleian Post, a private local post based in San Antonio, Texas, will issue a stamp commemorating the 10th wedding anniversary of the post's proprietor and his wife. Sarah and Kevin Blackston were married in San Antonio in September 2010 in front of a crowd of family and friends.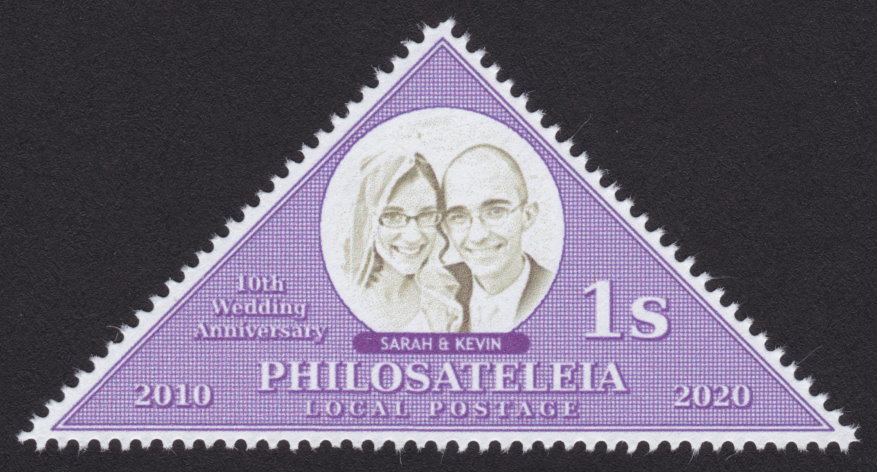 The purple and sepia 1-stamp stamp features a picture of Sarah and Kevin taken on their wedding day. It will be Philosateleian Post's first stamp issued in a triangular format.
Philosateleian Post previously issued a stamp in 2011 celebrating the couple's first wedding anniversary.
"It seems like just yesterday that I watched my beautiful bride walk down the aisle," said Kevin. "The past ten years have been an adventure and I look forward to many more with Sarah.
"One of the nice things about operating my own local post is that I can commemorate events of family significance, and our tenth anniversary certainly qualifies."
Technical Specifications
Format: sheets of 40. Design size: 62×31 mm. Separation method: perforated 12. Adhesive: water-activated dry gum. Printing method: inkjet.
Philatelic Services
To receive a mint single of Philosateleian Post's 10th Wedding Anniversary stamp, or for first day cover service, send either $2 or a self-addressed stamped envelope and your request to:
Kevin Blackston
Philosateleian Post
PO Box 17544
San Antonio TX 78217-0544
United States of America