Philosateleian Post to honor Anna Blackston
For the most part, I try to avoid getting into personal business here. You visit Philosateleia to read about stamps, not about what's going on in my life. There are times, however, when so major a life event occurs that that general rule has to be set aside.
As you're probably already aware if you receive the Philosateleian Post Horn, my mom, Anna Blackston, died back in March. She had been diagnosed with cancer in late 2017, and the effects of that terrible disease finally overwhelmed her body. There is no doubt in my mind that we will see her again, but there is also no question that her death was a major blow to our family.
Mama dedicated her life to taking care of my dad, sister, and me, and homeschooled both of us kids from first grade right on through high school. She always encouraged me to accomplish as much as I could, and to do the best job that I could, because she cared about me. Even during her illness, her primary concern seemed to be how it would affect the rest of us rather than how it would affect her.
In memory of my mom, who was such a huge influence in my life, Philosateleian Post this fall will release a local post stamp honoring her life. September 26 is the planned first day of issue.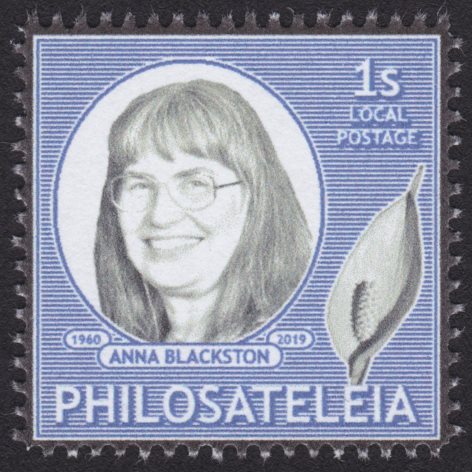 The 1-stamp design features a photo of my mom taken in 2017, plus a peace lily that was given to us following her death. Each stamp is also surrounded by a black border, a feature historically encountered on mourning envelopes used to send notification of a loved one's death.
Technical Specifications
Format: sheets of 48 (6×8). Design size: 28×28 mm. Separation method: perforated 12. Adhesive: water-activated dry gum. Printing method: inkjet.
Philatelic Services
To receive a mint single of Philosateleian Post's Anna Blackston stamp, or for first day cover service, send either $2 or a self-addressed stamped envelope and your request to:
Kevin Blackston
Philosateleian Post
PO Box 17544
San Antonio TX 78217-0544
United States of America