14¢ American Indian on Hindenburg cover
The 14¢ American Indian stamp has been my favorite for years, so I jumped at the opportunity to acquire this piece recently.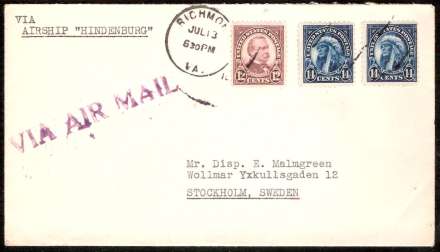 This cover bears two copies of Scott No. 565 (14¢ American Indian, perf. 11), and one copy of Scott No. 693 (12¢ Grover Cleveland, perf. 11×10½). It is the only piece in my collection that was carried by an airship, the Hindenburg. The Hindenburg might be the best-known airship due to its explosion in Lakehurst, N.J., in 1937.
The Richmond, Va., postmark, although incompletely struck, provides all the information we need to determine the year the cover was flown. According to Airships: A Zeppelin History Site, the Hindenburg's first flight took place in March 1936 and its last took place in May 1937. The July 13 postmark therefore can only mean the cover flew in 1936.
Are there any airship covers in your collection?