First Day Cover
Although first day cover collecting was still to some extent in its infancy during the period of the fourth Bureau issue, finding 14¢ American Indian FDCs is not an excessively difficult proposition. Less frequently seen, however, are examples of the 14¢ stamp on first day covers for other issues.
Such is the case with this FDC postmarked in Washington, D.C., in 1938. The first day cachet is not for the American Indian stamp at all, but rather for the 2¢ John Adams "Prexie" that was issued on June 3, the day this cover was postmarked.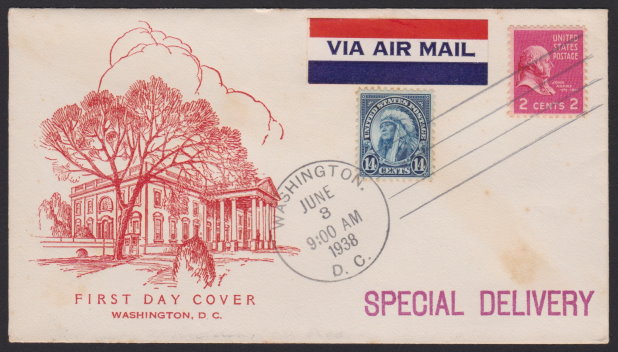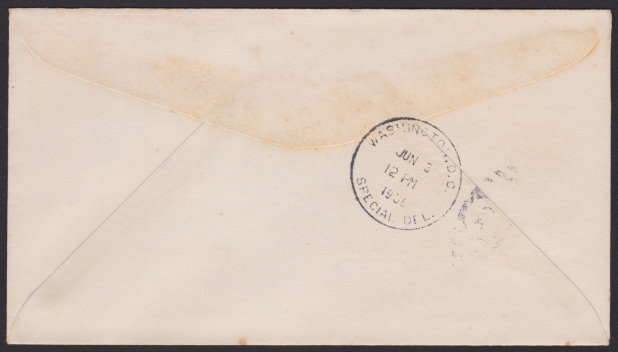 The envelope bears a "Via Air Mail" etiquette plus a "Special Delivery" handstamp, and the 16¢ postage covers the appropriate fees: 6¢ for air mail plus 10¢ for special delivery.1
Considering the absence of any mailing address on the front of the cover, it seems highly unlikely that the item received such services, and it is not immediately clear why the preparer went to the extra expense when the addition of a 1¢ definitive in place of the 14¢ stamp would have sufficed. Nevertheless, the resulting creation is a delightfully unexpected example of American Indian stamp usage.
Next: Copenhagen cover
References
Beecher, Henry W., and Anthony S. Wawrukiewicz. U.S. Domestic Postal Rates, 1872–2011. 3rd ed. Bellefonte, Pennsylvania: American Philatelic Society, 2011.
Published 2020-08-10 Last updated 2021-09-12