United States Thank You stamps are sharp, classy
When I went to the post office to mail a package yesterday, I asked the clerk who assisted me if he had any of the new United States Thank You stamps in stock. He did, so I purchased a couple of panes. It doesn't necessarily show up all that well in scans, but the design on each of these four stamps is a shiny gold, and they look sharp!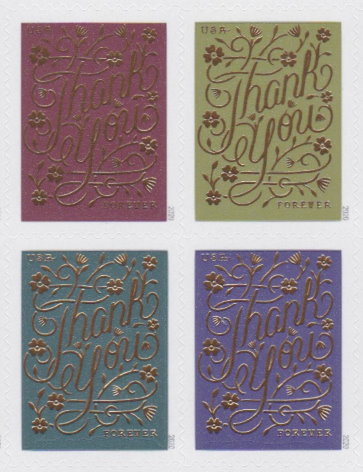 "Thank you" is a phrase that seems to have all but disappeared in some places, so to see it on a stamp makes me smile a little bit. And think of how perfect these things will be for use on thank you notes! I've been underwhelmed by a lot of new United States stamp issues this year, but these are big winners as far as I'm concerned.
My only complaint about these stamps is that on both panes that I purchased, what look like cracks are visible to the naked eye near the bottom edge of many of the stamps, as illustrated here. This is most apparent on the stamps with the darker backgrounds.

I can't help wondering if this visual effect has something to do with whatever process was used to apply the gold designs, but maybe I just got a couple of panes from a batch that wasn't quite perfect. Have you seen any of the new Thank You stamps? I'd be interested in knowing if yours have these same apparent cracks, or if they are flawless.