Bat's Private Post honors Princess Diana, 2020 Summer Olympics
Bat's Private Post of Beverly Hills, California, on July 1, 2021, issued a total of eight different stamps commemorating two different subjects.
A set of two stamps marked the 60th anniversary of the birth of the late Diana, Princess of Wales (1961–1997). Both stamps feature a photograph of Princess Diana.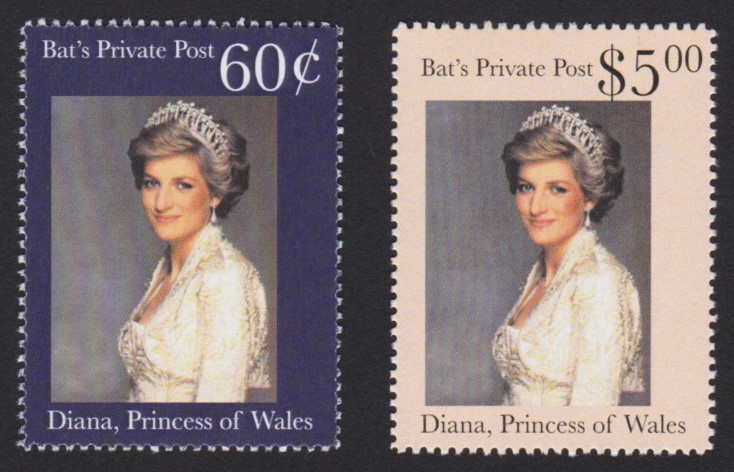 A release distributed with the stamps indicates the 60¢ value covers USPS and Bat's Private Post fees to mail a letter up to one ounce in weight or a large postcard within the United States, while the $5 value pays the Bat's Private Post fee for delivery of articles to locations close to the local post's normal area of operations.
The second set of stamps issued by the California local post on July 1 celebrates the 2020 Summer Olympics, also known as Tokyo 2020. The games, postponed last year due to COVID-19, have been rescheduled to begin later this month.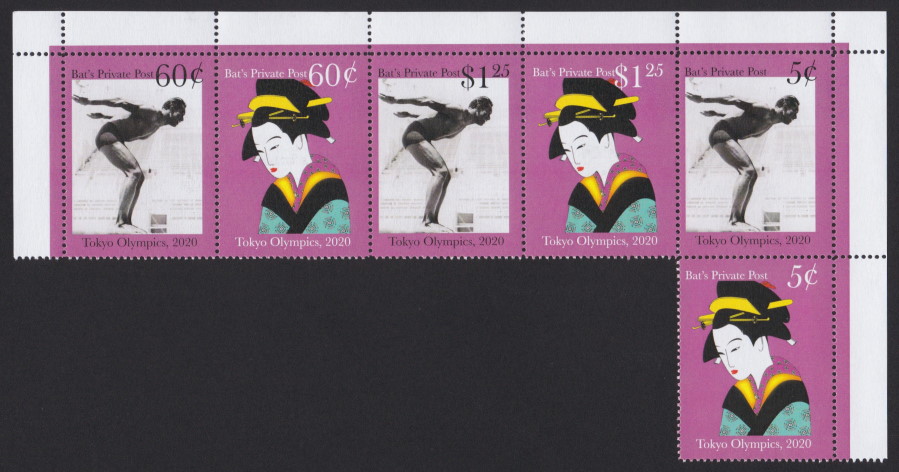 Two designs are used for each of three different denominations (5¢, 60¢, and $1.25). One is based on a 1920 photograph of Duke Kahanamoku (1890–1968), who popularized the sport of surfing but also earned five Olympic medals in swimming, including gold medals in 1912 and 1920. Kahanamoku was previously honored on a United States postage stamp in 2002.
The other design depicts a geisha, a professional female Japanese entertainer.
According to Bat's Private Post, the 5¢ stamps pay the fee for delivery of a letter or postcard to the USPS, while the $1.25 stamps cover U.S. and local postage for carrying letters bound for international destinations.