Whatever happened to postage due?
A couple of weeks ago, I received this envelope in the mail. I've covered my mailing address for privacy reasons, but there's still something obviously wrong that you'll no doubt spot right away.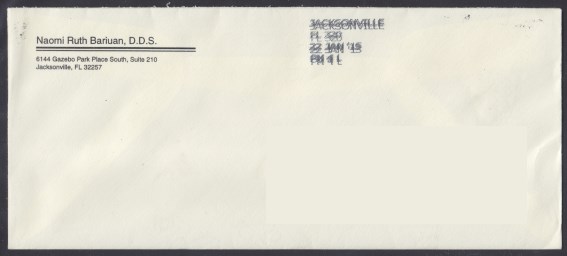 That's right—this envelope traveled with no postage at all! Oddly enough, it wasn't even marked postage due.
On the other hand, maybe I shouldn't say it's odd. More than once, I've seen envelopes at work that seemingly made it through the postal system without ever having a stamp or meter applied to them. They have also had no postage due markings.
I suppose it's possible that collecting postage due is simply not worth the time for the USPS, but personal observation suggests prepayment (or for that matter, payment) of postage is still enforced in some quarters. If the postage meter machine at work grabs two envelopes at once and the second doesn't get stamped, it is returned to us, not sent on to the recipient.
Have you received mail without postage paid that wasn't assessed postage due? Or does your mail carrier mark underpaid or unpaid letters appropriately?