Nice landscape on new local post stamp
I recently discovered a local post stamp that I think other landscape collectors might find interesting.
This non-denominated label produced by Local Post Collectors Society Secretary-Treasurer Bob F. for Taos Local Post features a mountain scene. Bob, who was kind enough to send me a few copies of the stamp for my collection, says the photo used for the stamp's design was taken somewhere between Santa Fe and Taos, N.M.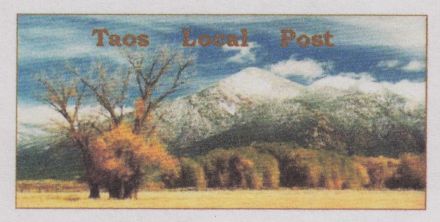 The exact location depicted is unknown, but based on Bob's description I suspect the peaks are probably in the Sangre de Cristo Mountains, which make up the southern end of the Rocky Mountains.
Can you identify the exact peak or peaks pictured?