New Philosateleian Post stamp pictures Georgia lake
As the proprietor of Philosateleian Post, I'm pleased to announce the upcoming release of my newest local post stamp.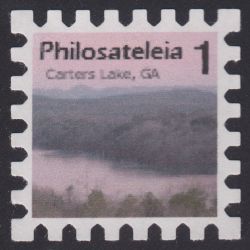 Carters Lake is nestled amongst the Blue Ridge Mountains in North Georgia, and the new stamp's design is based on an early-morning photo of that body of water. The design measures 1 square inch in size, and like all other Philosateleian Post stamps is issued in the 1 stamp denomination.
The Carters Lake stamp's scheduled issue date is May 3.
You can obtain a copy of the stamp for your own collection at no charge by sending a self-addressed envelope or postcard with correct U.S. postage affixed to:
Kevin Blackston
Philosateleian Post
PO Box 57622
Jacksonville FL 32241-7622
I'll affix one of the new stamps to the cover and mail it to you.
If you're interested in local post stamps, you might wish to join the Local Post Collectors Society, of which I am a member. Dues are a very reasonable $20/year for U.S. members and $25/year for those living outside the U.S.
Have you ever made your own "stamps"? What subject(s) did you feature?