Philosateleian Post introduces new "return to sender" label
In response to continued deliveries of mail addressed to individuals who are not customers of Philosateleian Post, the San Antonio, Texas, based local post has introduced a new "return to sender" label. The label saw its first use on January 3.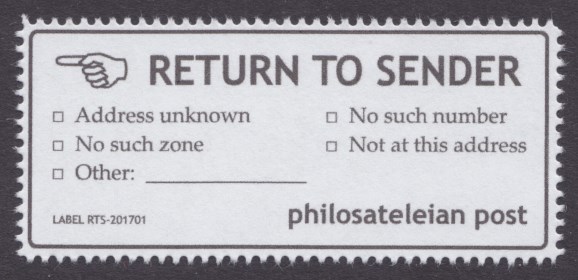 Philosateleian Post's return to sender label bears a left-pointing hand indicating that the mail piece to which it is affixed should be returned to its point of origin. It also bears checkboxes for various reasons for its return such as "address unknown," "no such number," and "no such zone."
When used, the label is tied to cover with one of the cancellations used by Philosateleian Post.
Technical Specifications
Format: sheets of 27 (3×9). Design size: 60×25 mm. Separation method: perforated 12. Adhesive: water-activated dry gum. Printing method: inkjet.
Philatelic Services
To receive a mint copy of Philosateleian Post's return to sender label, send either $2 or a self-addressed stamped envelope and your request to:
Kevin Blackston
Philosateleian Post
PO Box 17544
San Antonio TX 78217-0544
United States of America
About Philosateleian Post
Founded in 2004, Philosateleian Post transports mail only from the proprietor's home to the nearest mail receptacle or post office, and does not compete with any official mail service. For more information, please visit http://www.philosateleia.com/post/