The Southworth Perforator, hand power edition
I recently sold my antique Franklin hand perforator that I'd originally purchased in 2014. Taking its place is a larger Southworth tabletop hand perforator!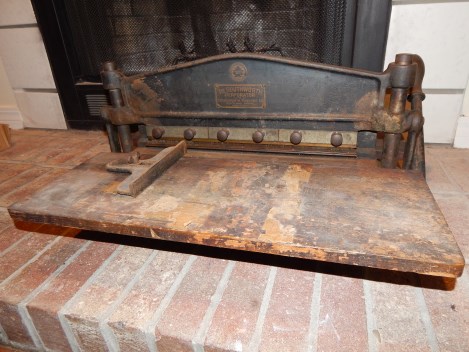 I spotted this heavy beast in a bulk lot of old print shop equipment on eBay in February, and since it was in Tampa—not a short round trip by any means, but doable in a day—I contacted the seller to see if he would be willing to part with just the perforator. He was, so a price was agreed upon and we drove down one Friday to pick it up.
An overview
This Southworth apparently went through some rough times at some point. There are a couple of obvious repairs to either end of the head; undoubtedly the bottom brackets cracked—why and how is not clear—necessitating the obvious welding job. The welds don't look particularly fresh, though, so the repairs seemingly did their job.
On the more positive side of things, the perforator does seem to have all of its original equipment: ash tables, metal guides, and even inlaid metal rulers in the table on the back of the machine. That's fancy stuff! It's capable of perforating a line approximately 15 inches long, and seems to have a virtually full complement of pins with only two or three empty slots at one end. They're in reasonably good shape, too—enough so that I'm in no hurry to order a set of replacements.
The extra size compared to other tabletop perforators and all the goodies do come with a price: this thing is heavy. I managed to lug it up the stairs, but I'm in no hurry to move it any further than I have to now. I haven't had an opportunity to weigh the machine, but it is one solid hunk of metal.
Reference material
Scott A. of Purgatory Post found a Southworth ad that pictures the model I now own in a 1923 American Type Founders Company catalog.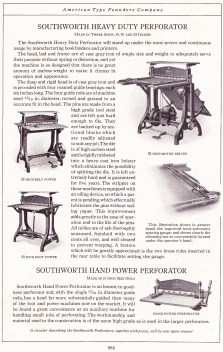 The ad indicates that Southworth manufactured several different models of 15-, 20-, and 28-inch full-size perforators, plus my so-called "hand power perforator." "Southworth Hand Power Perforator is an honest-to-goodness perforator," the ad proclaims, "and the material used in the construction is of the same high grade as is used in the larger perforators."
Due in part to its size and design, Scott wrote in an article in the March–April issue of The Poster that the Southworth was "one of the finest hand-powered perforators."
A reply from Southworth
After purchasing the perforator, I wrote to Southworth Products, which is still in business today, albeit as a producer of lift tables and pallet movers and the like rather than pinhole perforators. I was hoping that Southworth might have a copy of an old owners manual or assembly schematic that would give me some additional insight into exactly how the machine was put together; that they might be able to tell me when my perforator was built; and that they might be able to tell me how much it originally sold for.
One of the company's vice presidents, Gene Thompson, responded to my inquiry. In a letter I received today, he noted that Southworth just last year celebrated its 125th anniversary. What's clear is that the company produced equipment for the printing industry beginning in 1890 and through the early part of the 20th century. "Unfortunately," Mr. Thompson writes, "this is a period of time where much of our documentation and historical data has been lost."
Mr. Thompson does speculate that my perforator was probably built in the 1910s, though I suppose it's possible it could be a bit newer than that. Scott A. has found references to Southworth perforators still being sold at least as late as 1930.
Summary
I'm not going to pretend for a minute that the Southworth is anywhere near as pretty as the Franklin I sold. The Franklin didn't look out of place in our living room. The Southworth would not look out of place in a dirty workshop, and considering the amount of grime on it at the time I purchased it, that may very well be where it had been sitting.
The biggest factor in me deciding to keep the Southworth and sell the Franklin was the Southworth's ability to perforate a line 15 inches long compared to 10 inches for the Franklin. That means I can completely perforate a sheet of paper without having an inch or so unperforated at one end. It's a small thing, but it makes a difference.
I also like that the Southworth seems to have all of its original accessories, namely the lovely tables. Despite needing to be repaired at some point, that suggests to me that perhaps whoever owned the machine took some care to make sure it was maintained.
A final item of note: the holes that the Southworth punches seem to be in a slightly straighter line than what the Franklin produced for me. I don't know whether that's indicative of the differing qualities of the machines—the Franklin seems to have been something of an entry level perforator, while Southworth may have targeted a higher market—or if it's simply a sign of wear in the Franklin. In either case, the difference is virtually imperceptible when looking at a single stamp.
I've already perforated a few things on this machine, including a sheet of Philosateleian Post's upcoming National Park Service centennial stamp, and I look forward to doing much, much more!