Philosateleian Post introduces First-Class, Nonmachinable labels
On December 5, Philosateleian Post introduced a blue First-Class Mail International label for use on mail bound for destinations outside the United States. On December 12, two additional labels were placed into use: a red label for domestic first-class mail, and a purple one for nonmachinable items.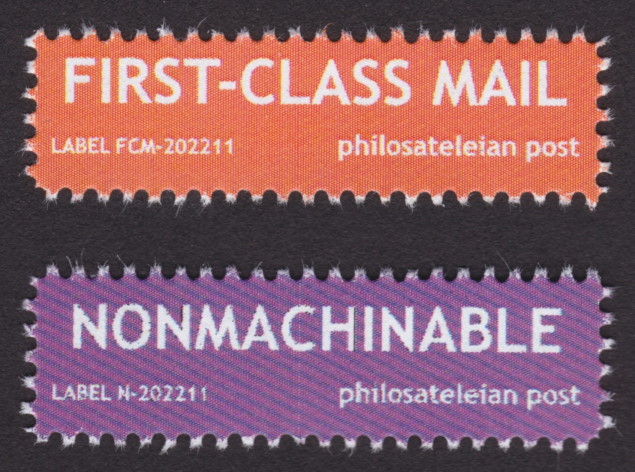 The First-Class Mail label is intended for use on small parcels or other items where I might feel a need to indicate the specific rate that applies, while the Nonmachinable label is for standard envelopes that have odd dimensions or are too rigid for regular mail processing.
I don't anticipate using either of these a great deal, but they're nice to have handy when the need arises.
If you would like mint copies of Philosateleian Post's new First-Class Mail and Nonmachinable labels, send either $2 or a self-addressed stamped envelope and your request to:
Kevin Blackston
Philosateleian Post
PO Box 217
Floresville TX 78114-0217
United States of America