Floresville, Texas, Mailer's Postmark Permit #1
Over the years, I have received many pieces of "junk mail" (and a few pieces of mail sent by other collectors) bearing mailers' postmarks. The USPS permits authorized mailers—individuals or companies holding mailers' postmark permits—to apply their own cancellations to their outgoing mailpieces.
As of this month, I'm one of those mailers. I've been assigned Mailer's Postmark Permit #1 in Floresville, Texas.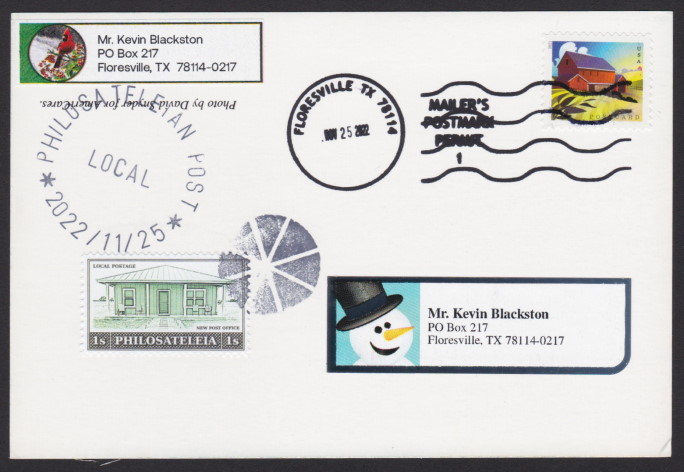 That's right. I applied the mailer's postmark on the pictured postcard that I mailed to myself on Friday.
You may be thinking, "I'd like to do that with my mail." If you can, I recommend it; it's great fun and another way to play postmaster. Before you rush off to order a rubber stamp, however, read on.
Use of precanceled stamps and mailer's postmarks is governed by section 604.3 in the Domestic Mail Manual. That document makes for absolutely fascinating reading if you're into that sort of thing, but if you'd rather not dive into the minutiae of USPS operations, I'll touch on a few of the high points:
First, the fun begins with Form 3615, "Mailing Permit Application and Customer Profile." This form allows you to request authorization to use precanceled stamps (such as those labeled nonprofit, presorted standard, etc.) and to use your own postmark.
According to section 604.3.2.1, there is no fee for a permit to use precanceled stamps (though as Form 3615 notes, there is a fee to present and send presorted mail at a discount). Likewise, there is no fee for the permit to use a mailer's postmark. Convincing my local postmaster of this took a bit of doing, but in his defense, his office had never handled a Form 3615 before. I had to call the postmaster's contact at the bulk mail facility in San Antonio to explain that I'm not doing any bulk mailings or expecting to make use of any discounted rates—in short, that I'm just a nutty stamp collector.
If you do succeed in getting approved for a mailer's postmark permit, you can't just stick the mail you cancel in the mailbox outside your house or drop it in a blue collection box. You have to hand such mail over the counter at your post office.
You are supposed to use the mailer's postmark format specified in DMM section 604.3.4.9. Some of the mailer's postmarks I've seen suggest some postmasters may employ a rather liberal interpretation of this regulation, but officially, your mailer's postmark is supposed to follow the specified format.
Considering the requirement to hand my precanceled mail over the counter at the local post office, I don't anticipate using my mailer's postmark on a daily basis, but if I'm planning a visit to check my post office box anyway? Might as well.
If you're interested in pursuing approval to use a mailer's postmark of your own, I recommend taking a look at the Mailer's Postmark Permit Club website. Although that club is no longer active, their website's archive does provide some very useful information about how to apply for and obtain a mailer's postmark permit or MPP, and I referenced it at length.
I have read on various stamp forums that some collectors have encountered roadblocks with local postmasters or other USPS staff insisting that there's a fee for using precanceled stamps or a mailer's postmark, and I ran into some of that myself as previously mentioned. Thankfully, my local postmaster and his contact at the bulk mail facility in San Antonio were willing to listen to my explanations and, although they probably consider me a nuisance, they were very helpful in the end.
Finally, if you would like a copy of my mailer's postmark for your own collection, please send a self-addressed stamped envelope or $2 and your request to:
Kevin Blackston
Philosateleian Post
PO Box 217
Floresville TX 78114-0217
United States of America