Bat's Private Post celebrates 15th anniversary
Bat's Private Post of Beverly Hills, California, on August 18 issued a pair of new self-adhesive stamps celebrating the local post's 15th anniversary. The 63¢ designs picture a bat, with the standard use stamp having a blue background and the official stamp having a buff background.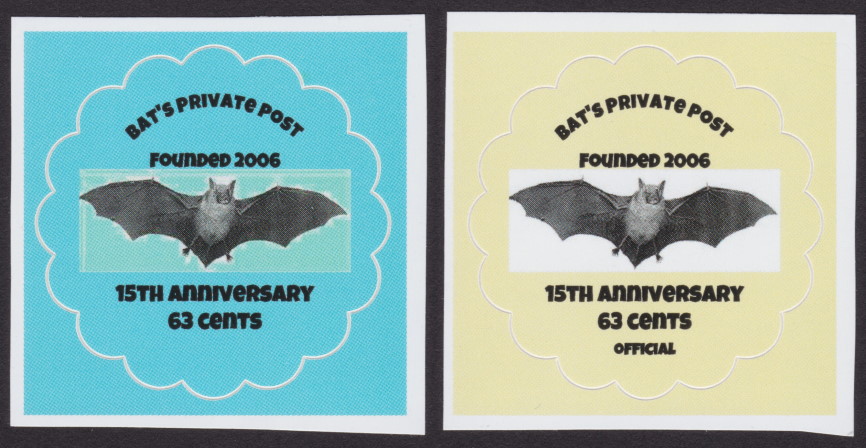 According to a press release, each of the stamps has 16 scallops around its edge: 15 for the 15 years that Bat's Private Post has been in operation, and an additional scallop representing the local post's future.
In addition to the stamps, which are only the second self-adhesive issue in Bat's Private Post's history, two ungummed souvenir sheets were produced, each containing three copies of one of the issued stamps.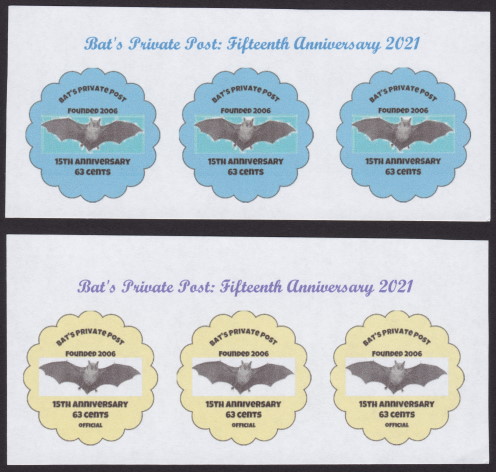 I hadn't realized that Bat's Private Post has been around as long as it has, but its only a couple of years behind my own Philosateleian Post. I like it when a modern private local post sticks around for a while, not just issuing a couple of stamps and then disappearing, and I wish the post's operator, Scott Z., much success with his future local posting activities.