Purgatory Post commemorates Lady of the Lake
New Hampshire-based Purgatory Post on July 7 issued the second in a series of stamps picturing steamboats that have traversed the Granite State's Lake Winnipesaukee. The stamp featuring a red frame with black vignette pictures Lady of the Lake, which began transporting travelers in 1849.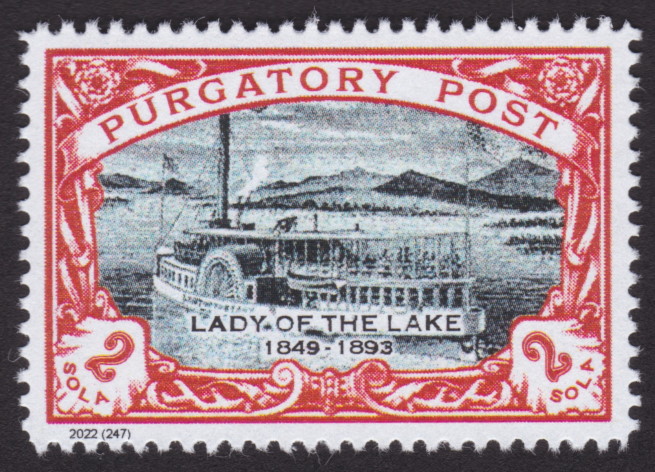 Lady of the Lake succeeded the short-lived Belknap and was the main mode of transportation around Lake Winnipesaukee until 1872 when a larger and faster ship, the Mount Washington, began operating.1 After another two decades, Lady of the Lake was mothballed in 1893 and eventually intentionally sunk in 1895.
According to Purgatory Post operator Scott Abbot, the remains of Lady of the Lake are remarkably well preserved and are a popular dive site, just like the wreck of the earlier Belknap.
References
Strahan, Derek. SS Lady of the Lake. Lost New England. 14 July 2015. Accessed 31 July 2022.