Buca di Beppo puts its stamp on advertisement
As a stamp collector, I'm always happy to see the hobby represented in a positive fashion in mainstream media. That includes advertising such as a flyer I received in the mail today from local eatery Buca di Beppo.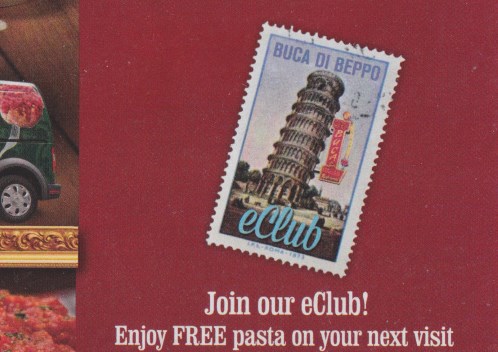 As you can see, the fantasy stamp pictured in Buca di Beppo's ad pictures the Leaning Tower of Pisa, which appears to be leaning because of a giant Buca sign attached to its side. The illustration even has small text below the stamp's main design; on real stamps, that feature allows for the designer or printer to be credited, and it is common on stamps from many different countries. It's not something I'm accustomed to seeing in advertising, however, and it's a nice touch that gives Buca di Beppo's "stamp" a more realistic look.
Have you seen any stamps, real or pretend, in non-philatelic settings recently? Leave a comment and let us know!