Gemini 7 Cover
After Gemini 7 splashed down in the Atlantic Ocean on December 18, 1965, a helicopter carried astronauts Frank Borman and Jim Lovell, who would later fly on Apollo 8 and, in the case of Lovell, on Apollo 13, to the nearby USS Wasp.1 2 The aircraft carrier was not the only ship in the area, however; the USS Joseph P. Kennedy Jr. was also part of the recovery fleet.2
The 8¢ United States air mail envelope pictured here, which bears a Project Gemini/U.S. Navy Recovery Force cachet, was postmarked on board the latter vessel on December 18, then dispatched to Grosse Point Park, Michigan.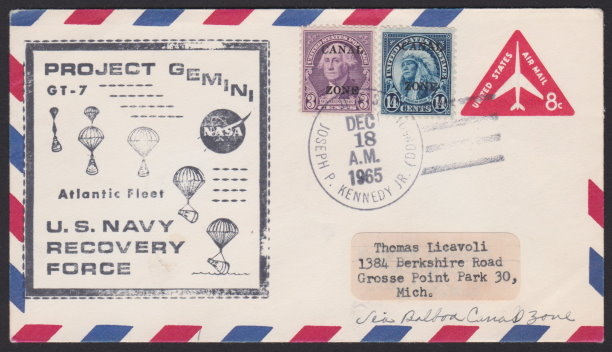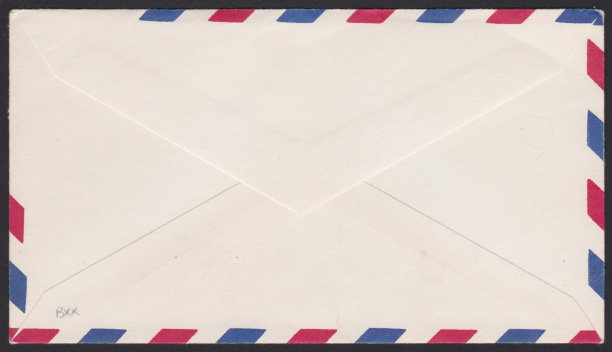 The cover bears copies of the 14¢ American Indian and 3¢ George Washington stamps overprinted for use in the Canal Zone more than three decades earlier, and a handwritten notation reading "via Balboa Canal Zone" goes some way toward explaining the presence of those stamps. Their use was certainly out of period, of course, but considering the philatelic nature of this cover, that is perhaps of little importance.
Before participating in the recovery of Gemini 6 and 7, the USS Joseph P. Kennedy Jr. saw action during the Korean War and the Cuban Missile Crisis. The ship was eventually decomissioned in 1973.
Next: the Marshall Islands stamps
References
Apollo 8 Crew. Smithsonian National Air and Space Museum. Accessed 10 Aug. 2020.
Gemini 7. NASA Space Science Data Coordinated Archive. Accessed 10 Aug. 2020.
USS Joseph P. Kennedy Jr.. Battleship Cove. Accessed 10 Aug. 2020.
Published 2020-08-10