Philosateleian photo featured in Kelleher's Collectors Connection
Late last year, I received a copy of the November–December 2015 issue of Kelleher's Collectors Connection in the mail. The magazine, which is published by Kelleher Auctions, wasn't something I'd requested, but I suppose they got my name and address off of a mailing list somewhere.
At any rate, while paging through an article about President Franklin D. Roosevelt's stamp collection, I noticed on page 16 a picture of his Roto-Gage, a combination perforation gauge-magnifying glass-watermark tray which was apparently marketed as something of a Swiss Army knife for stamp collectors. Hey, I thought to myself, I remember seeing that on display at Walt Disney World's Magic Kingdom a few years ago. I took a photo of it while we were there.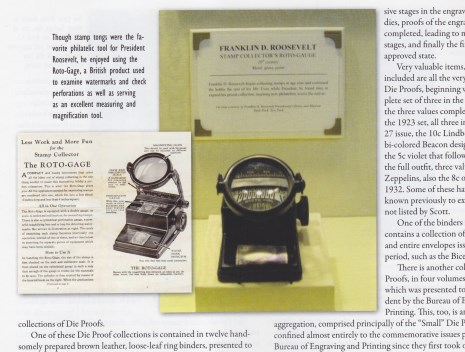 I took another look at the picture in the magazine, and that's when I realized that it should look familiar because it was the picture I took.
What I didn't see was any sort of acknowledgement of where the photo in the magazine originated. I feel like Philosateleia's reprint policy is fair—with the exception of The Philosateleian U.S. Stamp Album, all I ask is credit if you use my content—but that obviously had not been done.
I wrote a polite note to the editor of Kelleher's Collectors Connection, Randy Neil. Mr. Neil responded promptly and apologized for the omission of the appropriate credit, but promised it would appear in a future issue. And I'm pleased to report that on page 4 of the January–February 2016 issue, Philosateleia is credited as the source of the Roto-Gage photo.
It's exciting to see a photo I took published elsewhere, and I appreciate how Mr. Neil promptly addressed the issue. I've never purchased anything from Kelleher, but that sort of customer service definitely leaves me with a positive impression.