Automated Postal Center error labels
Toward the end of last year, various message boards on the Internet were abuzz with news of a new paper being used for labels printed at Automated Postal Centers, the self-service kiosks located inside many post offices across the United States. The paper featured a pre-printed image of a mailbox full of envelopes and packages.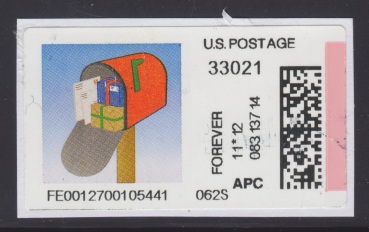 These labels, which are listed under "Computer Vended Postage Stamps" in the Scott Specialized Catalogue, temporarily replaced plain labels with black designs that are printed on them at the time of purchase.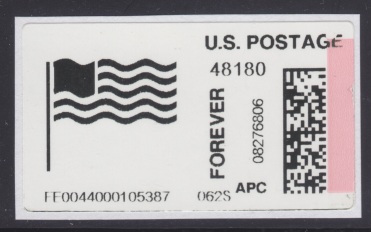 In most locations, postal employees correctly reprogrammed the machines so that they would not print the designs on top of the pre-printed paper, but in at least a few locations, the new paper stock was loaded with no changes made to the APCs. That resulted in labels that appear to have been overprinted like the "Flag Over Mailbox" error pictured below.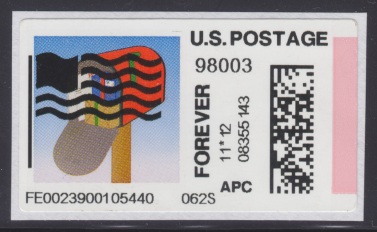 Designs other than the flag also exist printed on top of the mailbox labels since customers can choose which of half-a-dozen designs they want to buy.
Although these erroneous overprints are less common than their correctly-printed counterparts, I've examined two or three examples personally, and seen enough reports online to doubt that these are exceptionally rare. That's not to say folks aren't asking a pretty penny for them on eBay, but we're not exactly talking about "Inverted Jenny" level material here. Certainly, the error labels are nice to have, but the market for APC labels is in my estimation rather thin, and you're not likely to earn enough by selling them to fund your retirement.
Theoretically, it could be possible to have labels with no design on them—just the barcode and words—if the APC units were not recalibrated when plain paper was put back into use, but I haven't seen any reports of such items.
Have you seen any of the accidental overprints? How about blank labels? Share your finds with us in the comments section.