Chinatown stamps preceded modern personalized postage
It was only a few years ago that the USPS granted companies permission to begin selling "personalized" postage, stamps bearing photos of the buyer, his or her family, or a beloved pet. Precursors to those personalized postage stamps date back to the 19th century, however, and examples of such early cinderellas, stamp-like labels with no postal value, turn up even today.
Here we have a sheetlet of 16 labels picturing Chinatown in San Francisco. They are approximately perf. 14.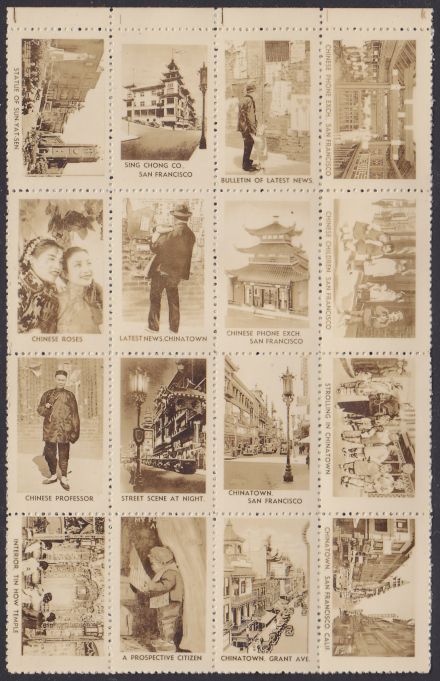 Each label bears one of these captions:
Statue of Sun-Yat-Sen
Sing Chong Co., San Francisco
Bulletin of latest news
Chinese Phone Exch., San Francisco
Chinese roses
Latest news, Chinatown
Chinese Phone Exch., San Francisco
Chinese children, San Francisco
Chinese professor
Street scene at night
Chinatown, San Francisco
Strolling in Chinatown
Interior, Tin How Temple
A prospective citizen
Chinatown, Grant Ave.
Chinatown, San Francisco, Calif.
The exact date of issue is unclear, but since automobiles are depicted on no less than five of the stamps, I presume they were probably produced in the 1920s or 1930s, perhaps a bit later than that. If you're familiar with automobiles from that time period and care to hazard a guess, please feel free.
This set of labels was apparently sold for a dime. The envelope in which they came bears the imprint "Gumling Importing Co., San Francisco, Calif." My Internet searches indicate this company was in existence at least as late as 1940, but I haven't found any current references to it.
The envelope is boldly labeled "18 photographs…gummed and perforated," which would make one think a couple are missing. An insert in the envelope, however, says it contains "a series of 16 Photo-Stamps," so perhaps the two affixed to the envelope were counted among the 18, or perhaps they were originally enclosed in the envelope along with the others.
The insert has room for an address, and the wording makes it clear the whole assembly was designed to be mailed to a friend.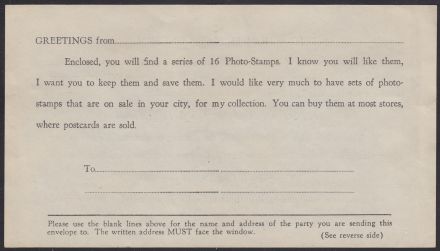 The back of the insert offers 100 ¾×1 inch gummed and perforated stamps—"photographic copies of the picture you give us"—for $1. The copyright imprint reads "Apeda Studio, Inc., New York." That company was apparently better known for its images of actors and actresses on Broadway, along with other photography-related endeavors.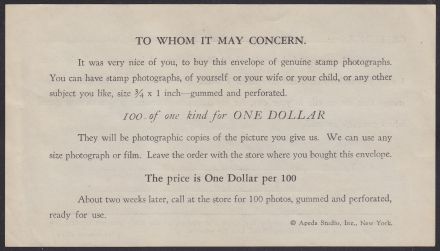 The front of the slip of paper seems to suggest similar "stamps" were available for other cities. Have you seen these before, or do you have similar examples picturing other scenes?