Muskogee first day cover a highlight of my collection
For most of us stamp collectors, there are certain items that we never expect to be able to add to our collections. The vast majority of us, for example, will never own an Inverted Jenny, or even one of the imperforate Bugs Bunny panes. We admire such items from afar, but our collections are made up mainly of common material.
You may be aware that the 14¢ American Indian stamp is near and dear to my heart. While I keep an eye out for solo uses and plate varieties of that stamp, I thought my first day cover postmarked in Washington, D.C., was probably the most expensive 14¢ piece that I would ever own. The other items of particular note listed in Scott have catalogue values that are simply out of my league. They were for all practical purposes in the same category as the Inverted Jenny: nice to look at, but not something I would ever own.
Last month, however, I had the opportunity to purchase a 14¢ American Indian FDC used in Muskogee, Oklahoma, the other first day city. I had to think about it for a while because although the asking price was well below catalogue value, it was also a lot more than I had ever paid for any stamp or cover. Ultimately, though, I decided to take the plunge, and here is my new acquisition in all its delightful glory.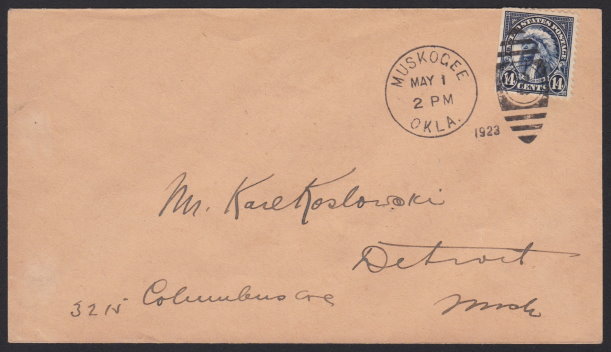 This piece is without question a highlight of my collection, and one that is really only rivaled by the commercial solo usages of this stamp that I've acquired, and as you might imagine, I'm quite excited about it.