Home >
Blog >
Philosateleian Post celebrates National Park Service centennial with new local post stamp
Philosateleian Post celebrates National Park Service centennial with new local post stamp
The National Park Service turns 100 years old this year, and Philosateleian Post is commemorating the major milestone with a new local post stamp. The green and orange stamp featuring a view of Great Smoky Mountains National Park will be issued on May 2.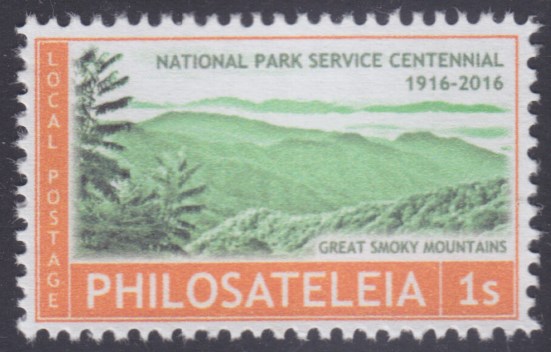 The new stamp's vignette is based on a photograph taken by Kevin Blackston in October 2015 while traveling through Tennessee and North Carolina on US Highway 441. It is the second Philosateleian Post stamp to feature a scene from a national park—a 2014 issue honored Yosemite National Park—and the latest in a long string of Philosateleian stamps picturing landscapes.
"The national parks located throughout the United States of America contain some of the country's most beautiful scenic vistas," says Blackston, proprietor of the local post based in Jacksonville, Florida. "I've been fortunate enough to visit several of them myself: Great Smoky Mountains, Yosemite, and the Grand Canyon.
"The National Park Service performs a vital role in preserving and protecting some of our nation's greatest natural treasures, and I congratulate the agency on its centennial celebration."
With approximately 10 million visitors annually, Great Smoky Mountains National Park is the most-visited national park in the United States. The park is renowned for its colorful fall foliage, and within its borders live hundreds of black bears, plus deer, elk, and turkeys.
Technical Specifications
Format: sheets of 48 (6×8). Design size: 36×21 mm. Separation method: perforated 12. Adhesive: water-activated dry gum. Printing method: inkjet.
Philatelic Services
To receive a mint single of Philosateleian Post's National Park Service Centennial stamp, or for first day cover service, send either $2 or a self-addressed stamped envelope and your request to:
Kevin Blackston
Philosateleian Post
PO Box 57622
Jacksonville FL 32241-7622
United States of America
About Philosateleian Post
Founded in 2004, Philosateleian Post transports mail only from the Philosateleian Embassy to the nearest mail receptacle or post office. This private local post exists solely for the enjoyment of its proprietor and does not compete with any official mail service. For more information, please visit http://www.philosateleia.com/post/
Published 2016-03-07