New Philosateleian Post local post stamp commemorates model railroading
On Tuesday, August 1, Philosateleian Post will release its 30th different stamp with a new issue commemorating model railroading. The stamp features a stylized silhouette of the front portion of a locomotive.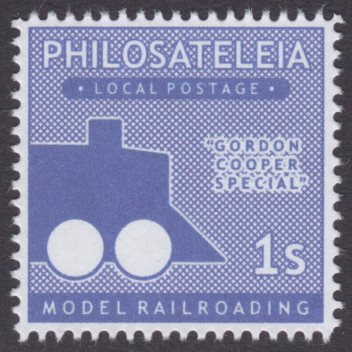 "When I was a kid, and we would go to visit my grandparents, my granddad would take me down to the basement to see his HO-scale train layout," says Kevin Blackston, propietor of Philosateleian Post. "It's a grand hobby and I'm pleased to be able to recognize it with this new stamp."
In addition to the locomotive's silhouette, the new 1-stamp stamp bears the legend "Gordon Cooper Special," a tribute to Blackston's late grandfather, Gordon Forehand (1936–2016).
Technical Specifications
Format: sheets of 48 (6×8). Design size: 28×28 mm. Separation method: perforated 12. Adhesive: water-activated dry gum. Printing method: inkjet.
Philatelic Services
To receive a mint single of Philosateleian Post's model railroading stamp, or for first day cover service, send either $2 or a self-addressed stamped envelope and your request to:
Kevin Blackston
Philosateleian Post
PO Box 17544
San Antonio TX 78217-0544
United States of America
About Philosateleian Post
Founded in 2004, Philosateleian Post transports mail only from the proprietor's home to the nearest mail receptacle or post office, and does not compete with any official mail service. For more information, please visit http://www.philosateleia.com/post/
Published 2017-07-07