Vienna Cover
The comprehensive 8¢ per ounce rate that covered air mail within the United States and surface transportation on to a piece of mail's final destination ended in the summer of 1938, being replaced on June 21 of that year by a 3¢ per ounce surcharge added to the normal surface mail rate to international destinations, which at the time was 5¢ for the first ounce.1 The surcharge of 3¢ per half ounce for air mail service within Europe did not change, however, meaning that a letter weighing between half an ounce and one ounce and receiving air mail service within the United States and Europe, but only surface transportation across the Atlantic, continued to cost 14¢ to mail, a rate that the American Indian stamp met exactly.
The American Indian stamp was largely supplanted by the 14¢ Franklin Pierce from the 1938 "Prexie" definitive series, which was issued October 6, 1938.2 There was, of course, no prohibition against the use of the American Indian stamp after that date, but any such examples would be considered late usages.
The cover pictured here was mailed just five days prior to the issue of the 14¢ Pierce stamp, and thus without question represents an in-period solo use of the American Indian stamp correctly paying the aforementioned air mail/surface mail rate from the United States to Europe.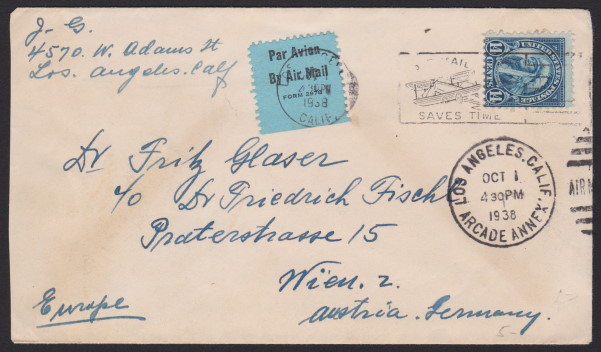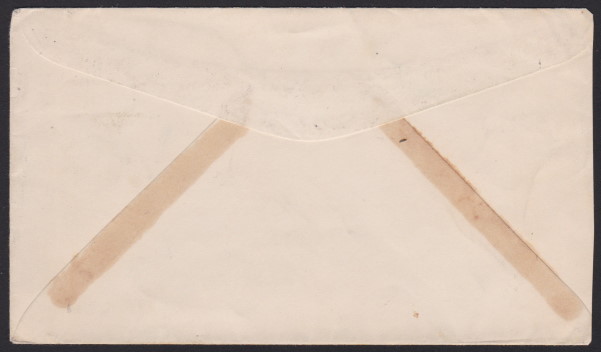 The 14¢ stamp and an example of the blue "Par Avion/By Air Mail" Form 2978 label are tied to the envelope by an October 1, 1938, Los Angeles, California, machine slogan cancellation reading "Air Mail Saves Time," and the envelope also bears a Los Angeles Arcade Annex air mail duplex cancellation. It is addressed to Dr. Fritz Glaser in care of Dr. Friedrich Fischl of Vienna, Austria, Germany.
While the address may look odd to modern eyes, one must keep in mind that Germany had annexed Austria in March 1938, and that Austria was therefore no longer an independent nation but rather a state within the German Reich.3 The envelope is thus appropriately addressed, and serves as a somber reminder of Nazi Germany's initial moves to seize territory in pre-World War II Europe.
Next: DAR parcel fragment
References
Beecher, Harry W., and Anthony S. Wawrukiewicz. U.S. International Postal Rates, 1872–1996. Portland, Oregon: Cama Publishing Company, 1996.
Snee, Charles, ed. Scott 2015 Specialized Catalogue of United States Stamps & Covers. Sidney, Ohio: Scott Publishing Co., 2014.
Germany annexes Austria. History. 9 Mar. 2021. Accessed 12 Sep. 2021.
Published 2021-09-12