Philosateleian Post to issue Tenaya Lake stamp
On October 1, 2021, Philosateleian Post, a private local post based in San Antonio, Texas, will issue a special stamp picturing Tenaya Lake in Yosemite National Park. The blue and green 1-stamp design is based on a photograph taken by Philosateleian Post's proprietor, Kevin Blackston, during a 2013 trip to California.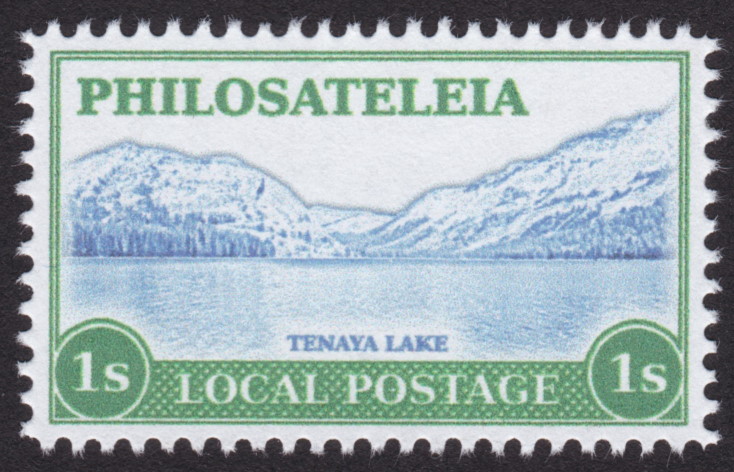 At 8,150 feet above sea level, Tenaya Lake has an altitude more than twice that of the floor of nearby Yosemite Valley, and the water that flows out of the lake ultimately makes its way through a steep canyon down to the Valley. The lake was named after Chief Tenaya of the Ahwahnechee, who lived in the area.
The Tenaya Lake stamp is Philosateleian Post's second to feature a scene from Yosemite National Park. The first, issued in 2014, featured a view of Yosemite Valley itself.
Technical Specifications
Format: sheets of 55. Design size: 36×21 mm. Separation method: perforated 12. Adhesive: water-activated dry gum. Printing method: inkjet.
Philatelic Services
To receive a mint single of Philosateleian Post's Tenaya Lake stamp, or for first day cover service, send either $2 or a self-addressed stamped envelope and your request to:
Kevin Blackston
Philosateleian Post
PO Box 17544
San Antonio TX 78217-0544
United States of America
Published 2021-08-02