New Philosateleian Post Stamp Marks Proprietor's First Anniversary
Jacksonville, Fla., USA, August 23, 2011—As summer draws to a close, Jacksonville, Fla.-based Philosateleian Post is preparing to commemorate a special anniversary: the first anniversary of the private local post's proprietor, Kevin Blackston, and his wife Sarah.
A stamp titled "Sarah & Kevin's Wedding," which pictures the young couple kissing on their wedding day, is scheduled to be issued September 19.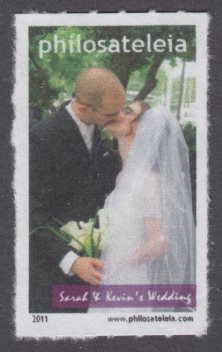 "It's difficult to believe that a year has already passed since I married my beautiful bride," says Kevin. "She is my best friend and my love, and I'm incredibly thankful to have her in my life."
"This stamp reminds me of our beautiful wedding day and the commitment we made to each other and to God," says Sarah. "This past year, I have been able to spend every day with my best friend."
The new stamp is the first issued by Philosateleian Post that depicts identifiable people. It is the third and final commemorative issue of the Post's 2011 stamp program, which also included stamps commemorating the Guadalupe River in Texas and the 100th anniversary of airmail.
Technical Specifications
Format: sheets of 42 (7×6). Design size: 21×36 mm. Separation method: roulette 5½ (approx.). Adhesive: none; applied at time of use. Printing method: inkjet.
Philatelic Services
For a complimentary mint single of the Sarah & Kevin's Wedding stamp, or to receive first day cover service, send a SASE and your request to:
Kevin Blackston
Philosateleian Post
PO Box 57622
Jacksonville FL 32241-7622
United States of America
About Philosateleian Post
Founded in 2004, Philosateleian Post transports mail only from the Philosateleian Embassy to the nearest mail receptacle or post office. This private local post exists solely for the enjoyment of its proprietor and does not compete with any official mail service. For more information, please visit http://www.philosateleia.com/post/
Published 2018-06-17