Angeles City Local Post issues Community Pantries stamp
On April 14, 2023, Angeles City Local Post issued a new stamp celebrating the second anniversary of the establishment of community pantries in the Philippines. The 15-peso design features a lilac border and an illustration of a cart loaded full of groceries.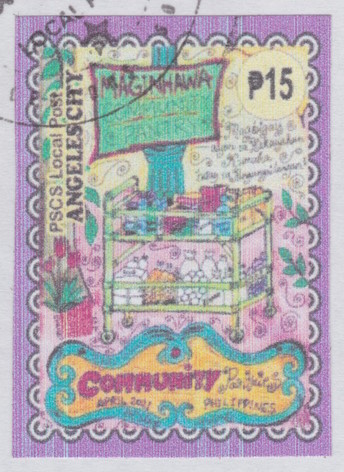 During the COVID-19 pandemic, local citizens in the Philippines created the community pantries or food banks to help neighbors in need. According to Wikipedia, some organizers were questioned by the government under suspicion of sympathizing with communist insurgents, but the community pantries were ultimately permitted to continue.
I've mentioned Angeles City Local Post a couple of times previously as being affiliated with the Philippine Stamp Collectors's Society. It is delightful to see new emissions from an international local post, and I look forward to seeing future stamps from Angeles City Local Post's operator, James C.
Published 2023-04-26