Big Indian cover
One of the latest uses of the 14¢ American Indian stamp in this collection is entirely philatelic, but it is of interest due to the town name in the August 27, 1938, postmark tying the stamp to cover: Big Indian, New York.
The hamlet of Big Indian is located in New York's Catskill Mountains.1 2 The community is named for Winnisook, a member of the Lenape people who lived in the area in the 1700s. According to legend, Winnisook was over seven feet tall; his height was the origin of the name of Big Indian.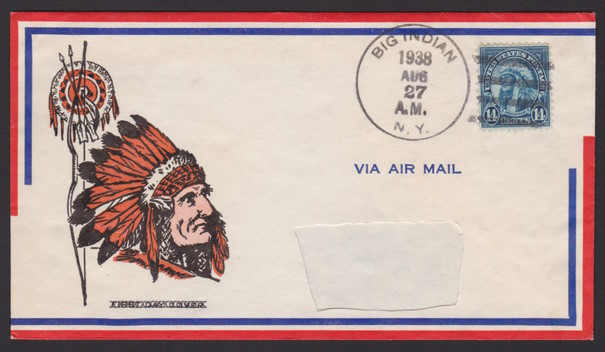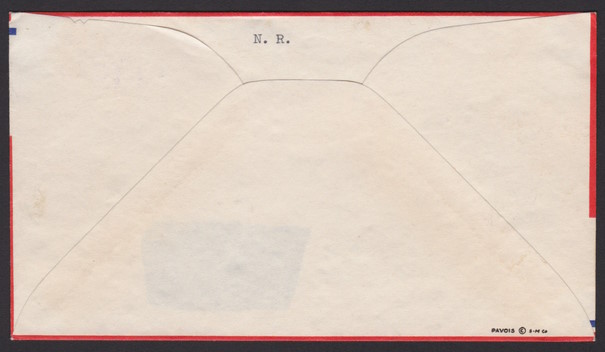 The cachet on this cover features an illustration of a Native American chief, and the text on the reverse—"Pavois © S-M Co"—identifies it as a Stebbin Pavois design produced no earlier than 1938.3 A line of typewritten "X's" crosses out the wording "First Day Cover"; since the rotary press printed American Indian stamp was issued in 1931, it is unclear for what stamp the cover may have originally been intended.
Additionally, since a previous owner of the cover removed the address, there is no way to identify where or to whom it may have been mailed; however, even with the "Via Air Mail" inscription, it seems virtually certain that the 14¢ stamp significantly overpaid the applicable postage rate in effect at the time.
Next: Vienna cover
References
Big Indian/Oliverea. The Catskill Mountains Scenic Byway. Accessed 20 Mar. 2023.
History of Big Indian and Oliverea. The Historical Marker Database. Accessed 30 Mar. 2020. Accessed 20 Mar. 2023.
Nafziger, Ralph. Pioneers Who Created Generic FDC Cachets. First Days 15 July 2010. Accessed 20 Mar. 2023.
Published 2023-03-21 Last updated 2023-03-22