Meriwether Lewis Cover
Although the United States of America had not yet declared independence, rumblings against the British were already growing by the time Meriwether Lewis was born on August 18, 1774.1 No one could have known that Lewis would beginning at the age of just 29 play an important role in the exploration of portions of the giant swath of land acquired as part of the Louisiana Purchase, but he would indeed do just that as the leader of the Lewis and Clark Expedition.
Lewis was born in Ivy Creek, Virginia, near Charlottesville. This cover with a cachet commemorating the 160th anniversary of his birth was postmarked in Charlottesville on August 18, 1934, and sent to Sedley Bartlett of Meredith, New Hampshire.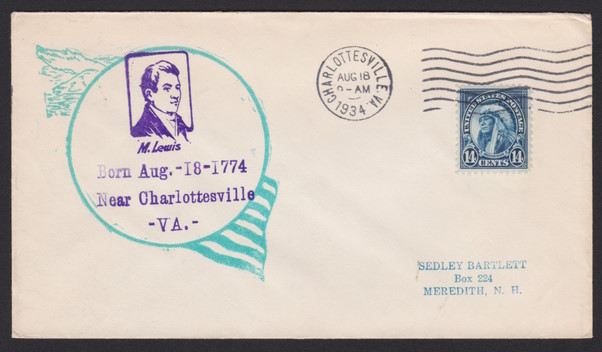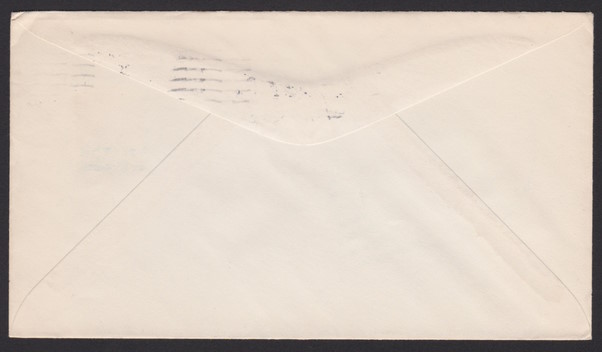 This is obviously a philatelic usage of the 14¢ American Indian stamp, which overpaid the then current postage rate of 3¢ per ounce.2 There is also no obvious connection between Lewis, the subject of the cachet, and Hollow Horn Bear, the subject of the stamp. About the most we can say is that Lewis interacted with various Native American peoples during the course of his journey of exploration.
Next: Omaha cover
References
Meriwether Lewis. Encyclopedia Britannica. 26 Jan. 2023. Accessed 20 Mar. 2023.
Beecher, Henry W., and Anthony S. Wawrukiewicz. U.S. Domestic Postal Rates, 1872–2011. 3rd ed. Bellefonte, Pennsylvania: American Philatelic Society, 2011.
Published 2023-03-21